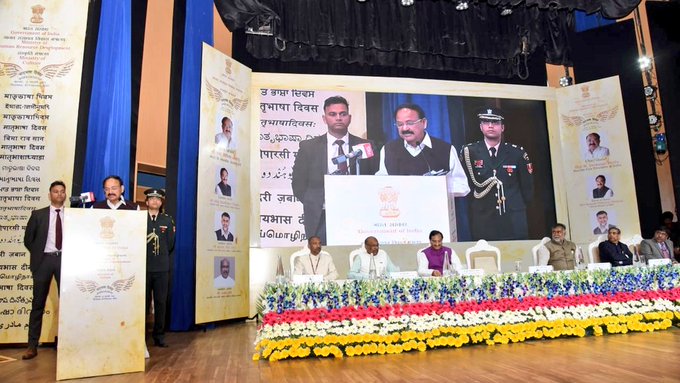 "Studies by the experts suggest that teaching in mother tongue at the initial stages of education gives impetus to the growth of mind and thought and makes children more creative and logical," says V-P
Staff Reporter / New Delhi
Vice President Venkaiah Naidu today asked citizens of India conserve the unique linguistic heritage of the country. He said language illuminates the world and is a tool for intellectual and emotional expression.
Speaking at a function organised in New Delhi on the occasion of International Mother Language Day, Mr Naidu said promotion of mother tongue is very important. He said language is a vehicle of intergenerational transmission of culture.
He also said that tribal languages contain invaluable knowledge and when a language declines, it takes away with it an entire knowledge system.
The Vice President called upon policy makers to see that medium of instruction at the basic level remains in the mother tongue of the people. He said one should learn as many languages as possible without neglecting mother tongue.
On the occasion, students in traditional Indian attires welcomed the Vice President in 22 Indian languages.
Calling for a link between the language and employment, the Vice President said that knowledge of Indian languages must be made compulsory for recruitment up to a certain level in government jobs.
He appreciated the Supreme Court for providing judgment copies in six languages and wanted all other subordinate courts to follow the same.
Emphasizing the importance of protecting and conserving India's unique and rich linguistic heritage, the Vice President said that celebration of Matribhashas should not remain a one-day affair and wanted all citizens to use their respective mother tongue on a daily basis. "Only then the celebration of this kind will attain serious meaning," he added
Observing that more than 19,500 languages and dialects are spoken in India as mother tongues, he said that the languages were a repository of collective knowledge and wisdom amassed over the course of the long journey of our vibrant civilization.
Pointing out that a language evolves with human evolution and gets nourished by constant use, the Vice President said "If you do not use a language, you lose it. When a language declines, it takes with it an entire knowledge system."
The Vice President appreciated the HRD Ministry for organizing the celebration of International Mother Language Day in one lakh schools across the country on February 21.
The Minister of HRD, Ramesh Pokhriyal 'Nishank', Minister of State (I/C), Ministry of Culture, Prahlad Singh Patel and the Minister of State, Ministry of HRD, Sanjay Dhotre and the Secretary to the Vice President of India, I.V. Subba Rao, and the Secretary (Higher Education), MHRD, Govt. of India Amit Khare, and, the Secretary, Ministry of Culture, Yogendra Tripathi.
International Mother Language Day has been observed every year since February 2000 to promote linguistic and cultural diversity and multilingualism. The theme this year is "Languages without borders".