AMN / New Delhi
Jamaat-e-Islami Hind delegation which is supervising relief works in the Delhi's riot-hit areas has found that the victims and survivors are extremely traumatized and in despair and they need counseling and a healing touch.
It also observed a positive aspect that in many cases, members of the Hindu community saved the lives of Muslims and vice-versa. This also endorsed the opinion that it was not a local riot but orchestrated and executed by outsiders.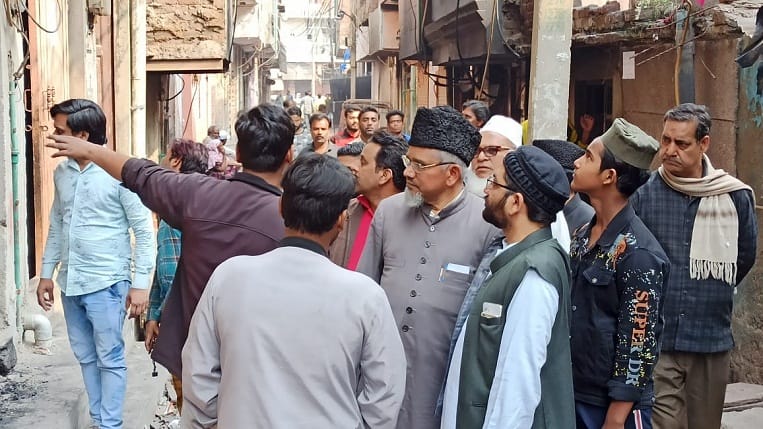 A team of senior Jamaat-e-Islami Hind led by its President – Syed Sadatullah Hussaini is supervising the relief and rehabilitation work for the riot-affected of North East Delhi.
"Jamaat-e-Islami Hind has been visiting the riot-affected from day one and trying to help the needy by providing emergency relief. The JIH President visited the area once again with a team of senior Jamaat leaders to oversee the relief work" said the Jamaat President.
he said that the team spent some time at a hospital in Mustafabad, which was instrumental in saving the lives of hundreds of victims. One of the worst impacted areas has been Shiv Vihar." We met the riot-affected victims and heard how people have taken shelter in nearby localities or returned to their native places. Sometimes 7 to 8 families have been forced to live in one house as refugees. They need to be rehabilitated immediately. Our delegation visited the relief camp being set up at Jafrabad Eidgah".
It will have a capacity to accommodate around 2000 people. Jamaat is helping with the supply of essential commodities at the relief camp in coordination with likeminded NGOs, the Delhi government and the local populace. We took part in a peace march organized by the locals of Mustafabad. We also met the Delhi Minorities Commission team of Dr Zafrul Islam Khan and discussed the situation."
Describing the situation, Syed Sadatullah said: "The riots and the attacks on the localities indicate meticulous planning and specific targeting of the Muslim community, their businesses and places of worship. The Gokulpuri tyre market was set ablaze and the entire market of more than 200 shops has been reduced to ashes. Gas cylinders were deployed to cause maximum damage.
Vehicles and apartments were selectively torched. The role of the police was extremely appalling. In many instances where violence took place, they were bystanders at best and active collaborators at worst.
Jamaat chief said: "We have set up a control center to coordinate our relief activities that are being headed by our National Secretary, Mohammed Ahmed. We have some urgent priorities like carrying out a survey and assessing the scale of damage, helping the victims to complete the documentation required for claiming the government-announced benefits and psychological counseling of the victims. Another important work is that of medical relief. There are many injured who have not yet received medical attention. They fear police reprisal.
They need to be nursed or transported to hospitals. We propose to establish a temporary hospital at our control center for those who require medical attention. Many have lost their businesses and complete earnings. Many lost their sole breadwinner. All of them need to be rehabilitated. Then there is the all-important legal work. The work of registering FIRs and legal prosecution also needs to be taken up. We have a team of dedicated volunteers including women and girls who are playing an active role in all our efforts." The members of the delegation were Syed Sadatullah Hussaini (President), Mohammed Jafar and Salim Engineer (Vice Presidents), National Secretaries Mohammed Ahmed and Shafi Madani and Assistant Secretary Nadeem Khan.