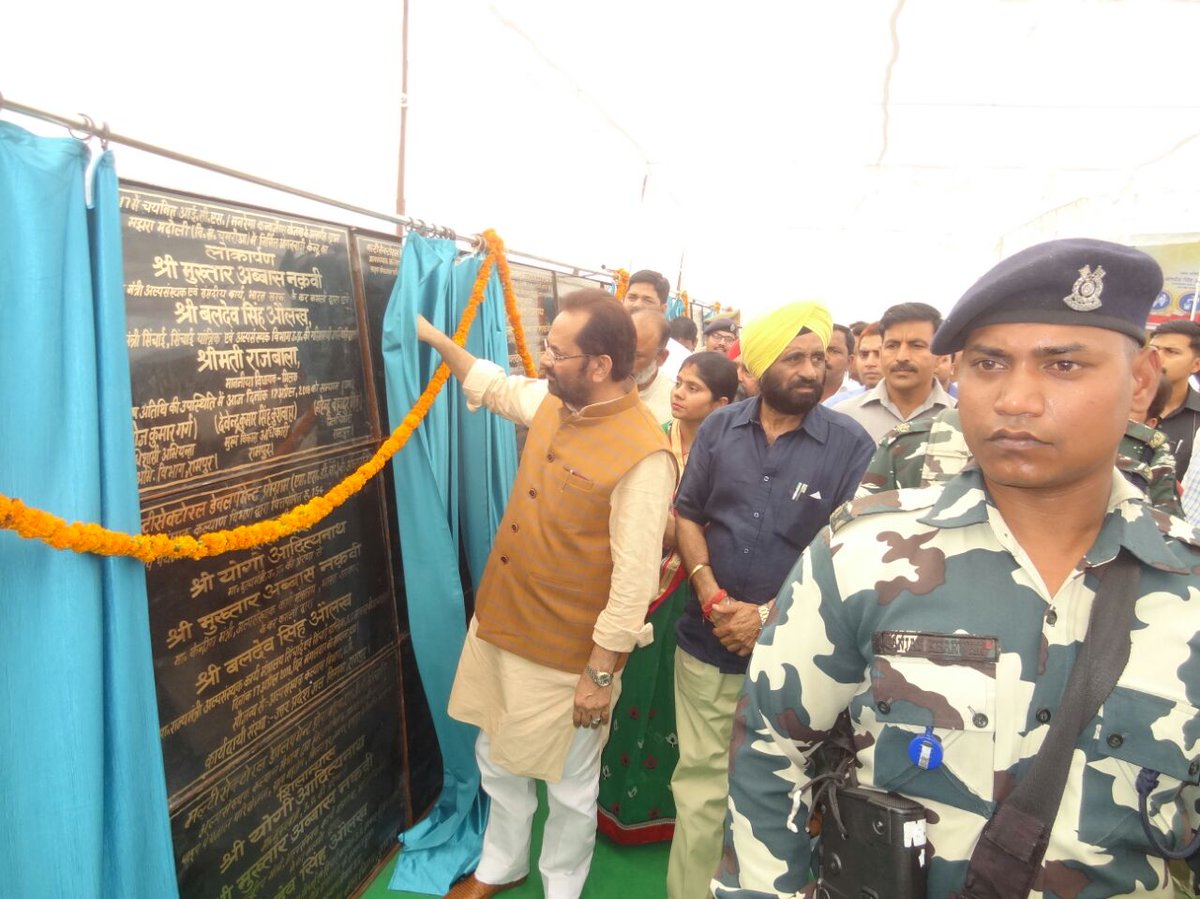 Our Correspondent / Rampur
Union Minority Affairs Minister Mukhtar Abbas Naqvi today said that "Sabka Saath, Sabka Vikas" is not a slogan, but it is "Rashtraniti" and "Inclusive Growth" is "Rajdharma" of the Modi Government. He said that in the last 4 years the government has made development as a part of dignity of poor and weaker sections and provided roads, electricity, water, employment, employment opportunities to them.
The Minister was speaking at Adarsh Ramlila Ground, Civil Lines Rampur, where he laid foundation stone and inaugurated various development projects of the Ministry of Minority Affairs and Minority Welfare, Government of Uttar Pradesh in Bilaspur, Swar, Saidnagar, Shahbad and Chamraua under Multi-Sectoral Development Programme (MsDP).
He said that Prime Minister Narendra Modi's commitment to "inclusive growth" has ensured welfare of villages, poor, farmers, youths, minorities and women . He said that there is an atmosphere of trust and development among all sections including Minorities due to our policy of "Empowerment without Appeasement" and "Development with Dignity".
Highlighting the achievements of his Ministry he said various scholarships- pre-matric, post-matric, merit-cum-means, free coaching, "Begum Hazrat Mahal Girls Scholarships" to 2 crore 66 lakh Minority students have been given in last 48 months. Job oriented skill development training and employment and employment opportunities to 5 lakh 44 thousand 994 youths through "Seekho aur Kamao", "Usttad", "Nai Manzil", "Garib Nawaz Skill Development Scheme". In last 1 year, 1 lakh 18000 artisans have been provided employment and employment opportunities through "Hunar Haat". Through "Nai Raushni" scheme, leadership training has been given to 2 lakh 95 thousand Minority women, various scholarships to 1 crore 21 lakh girl students.