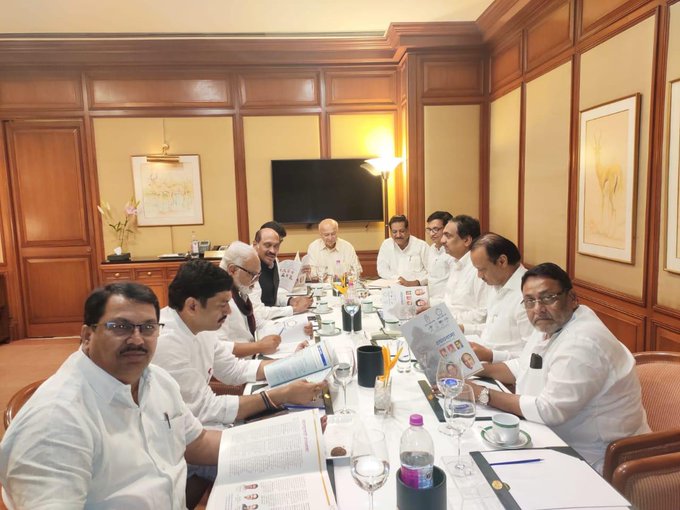 AMN / MUMBAI
The political activities and consultations are going on to form a coalition government in Maharashtra following the imposition of President's Rule in the state.
The Nationalist Congress Party, NCP which emerged as the third-largest party in the recent State Assembly polls, started working on activities of new coalition government including Congress and Shivsena. In a meeting held in Mumbai this morning, a five-member committee of the NCP leaders has been formed to decide the Common Minimum Programme with the Congress. The members include Jayant Patil, Ajit Pawar, Chagan Bhujbal, Dhananjay Munde and Nawab Malik.
Speaking to reporters after the meeting, NCP leader Ajit Pawar said that Mr Jayant Patil will call on President of Maharashtra Pradesh Congress Committee Balasaheb Thorat for further discussions between the parties and discuss the dates from which they can have a joint discussion on how to go ahead.
Mr Pawar said, his party feels that Maharashtra should get a government before the year-end. He also said that the party has told its MLAs to go back to their constituencies. He said that all MLAs have passed a resolution that the decision taken by Sharad Pawar will be final, some have suggested that they will discuss and meet again tomorrow.
Meanwhile, Shivsena President Uddhav Thackeray met Congress leader Ahmad Patel last night. Mr Patel is likely to apprise the Congress President Sonia Gandhi in Delhi today. Maharashtra Congress leaders will meet Mr Thackeray at a suburban hotel in Mumbai this afternoon for further discussion on new government formation strategies.
Earlier, Governor Bhagat Singh Koshyari yesterday recommended President's rule in the state. Following the report, the Union Cabinet recommended President's Rule in the state and President Ram Nath Kovind signed a proclamation imposing President's Rule in Maharashtra under Article 356 (1).