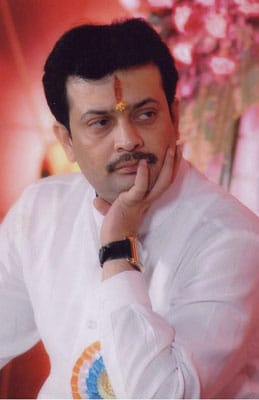 Vinit Wahi / New Delhi
Spiritual leader Bhaiyyuji Maharaj on Tuesday allegedly committed suicide by shooting himself at his residence in Indore, Madhya Pradesh. He was earlier rushed to Bombay Hospital in the city in critical condition. He was one of the five spiritual leaders who had been recently accorded minister of state status by the Shivraj Singh Chouhan government in a decision which many believe was politically motivated keeping in mind the ensuing state assembly polls due later this year as these god men have large religious following.
A large number of his followers gathered outside the hospital on hearing the news. What led to the former model turned spiritual leader taking the extreme step is yet to be known. Some reports say he was in depression while other says some family dispute could have led him to take this step.
According to his website Yuva Rastra Saint Sadguru Bhaiyyuji Maharaj is mentioned as spiritual leader, social reformer and motivator whose sole aim is to bring happiness on the faces of poor and downtrodden sections of the society. He had married an Indore-based medical practitioner, upsetting many of his disciples.