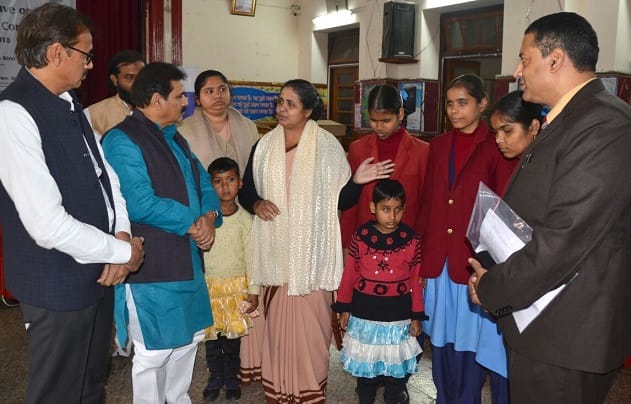 Our Correspondent / Lucknow
Chairman of National Minorities Commission, NCM, Syed Ghayoorul Hasan Rizvi has said that the central government is sincerely concerned over the problems of minority educational institutions in the country and trying to address their problem. He said that the central government will give top priority to programmes for welfare and development of minority communities.
"Security and welfare of minorities is the priority of the government" said Rizvi, while interacting with the principals and managers of minority educational institutions led by Dr. Denzil Godin MLA (Anglo Indian), Bishop Philip Masih and Bishop Gerald John Mathias in Mindshare National Conclave held here Tuesday.
Rizvi gave a brief explanation on the schemes run by the Department of Minority Welfare and urged the minorities to take advantage of these schemes. On the occasion, he congratulated Sr. Jossia Principal St Francis School for Hearing Impaired children, Sr. Reena Principal of Navjyoti School for Visually Impaired Children, Dr. Rama Shankhar, and Vishnu Kant Pandey (Additional Director, Basic & Secondary Education) for getting Mindshare Human Rights Award. Rizvi also took selfies with special children.
Fr Paul Rodriques informed the commission about the unnecessary delay and hurdles for schools in getting no-objection certificate from to the state government. Dr. Denzil Godin MLA (Anglo Indian) raised the issue of procedure for allotment of minority status to the schools and asked the commission to intervene and took measures for quicken the process.
Dr. Ashish Massey (President, National Minority Foundation) and Bishop Philip Masih raised the issue of framing the civil and criminal cases on the church and minority institutions. Bishop Masih appealed the commission to save these institutions and their precious time which could be utilised for societal welfare. Bishop Collin Theodore of the Church of North India also supported the demands.
Heads of several prominent institutions including Fr. Donald DeSouza, Dr. Robert Ravi Lyal (Manager, Lucknow Christian College), Sr Reena, Sr Jossia, Fr Elias Rodrigues, Fr Alwyn, Fr Claudius Alameda, Dr. Mukesh Pati, Rev. Christopher Samuel, Fr Anil Tirkey, Rev Ashish Maxton, Rev Herbert Able, Re. R B Rai, Rev. Saira Verma, Rev S K Titus, Rev, J P K Joseph, Rev Sanjay Verma, Rev Manoj Singh, Rev Naresh Singh, Rez Azad Christ, Dr. David Charles, Dr. Vinita Prakash, Zamanat Ali joined the interaction session.
Syed Zulfi, secretary general Mindshare expressed gratitude to all.