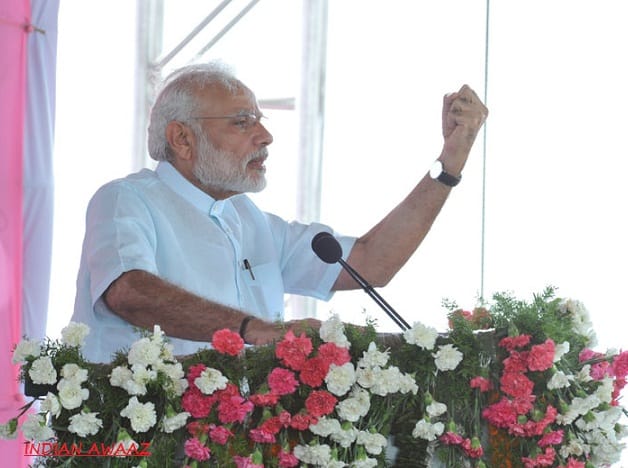 AMN / MATHURA (UP)
Prime Minister Narendra Modi today said that Government was moving towards a strong and new India by balancing nature and economic development as environment and livestock have always been an important part of India's economic thinking.
Speaking after launching a series of initiatives in Mathura today, Mr Modi said, programme like Swachh Bharat, Jal Jeevan Mission and other agriculture and animal husbandry related schemes reflect this thinking. Mr Modi said, animal husbandry and other businesses also have a big role in increasing the income of farmers.
He said, the investment made on animal husbandry, fish farming or bee keeping gives more earning to farmers. Mr Modi said, in the last five years, Government has moved ahead with a new approach on other options related to agriculture. He said, to expand India's dairy sector, there is a need for innovation and new technologies. He said, Startup Grand Challenge has started so that the innovations comes from the rural society.
The Prime Minister urged everyone to free their houses, offices and work areas from single use plastic from 2nd October this year. He urged self-help group working in villages, civil society, social organizations, youth organizations, women's circles, clubs, schools and colleges, government and private institutions to join the campaign.
The Prime Minister launched the National Animal Disease Control Programme (NADCP) for eradicating the Foot and Mouth Disease (FMD) and Brucellosis in the livestock from Mathura in Uttar Pradesh. The programme aims at vaccinating over 500 Million Livestock including cattle, buffalo, sheep, goats and pigs against the disease. It will be implemented for a period of five years till 2024 at a cost of around 13000 crore rupees.
The Prime Minister also launched National Artificial Insemination Programme during the event and Babugarh Sex Semen facility.
He also started Swachhta Hi Seva Programme emphasising the need to put an end to single use of plastic. Earlier, Mr Modi visited the Pandit Deendayal Upadhyay Pashu Arogya Mela.
Prime Minister Narendra Modi today said, terrorism has has become a global threat whose deep roots are flourishing in our neighbourhood. He said, India is capable of tackling any challenges. Mr.Modi said, terrorism today is a global problem and it has become an ideology, which is not bound by national boundaries.
Addressing a gathering after launching 'Swachhta Hi Seva' Programme 2019, National Animal Disease Control Programme (NADCP) and National Artificial Insemination Programme, in Mathura, Mr.Modi said, the world was shook by 9/11 terror attacks on the day when Swami Vivekananda had given his message on world peace. He said, a century ago, Swami Vivekananda gave his historic speech at Chicago about world peace on 11th September. Unfortunately, the same day also witnessed 9/11 terrorist attack in US that shook the world.