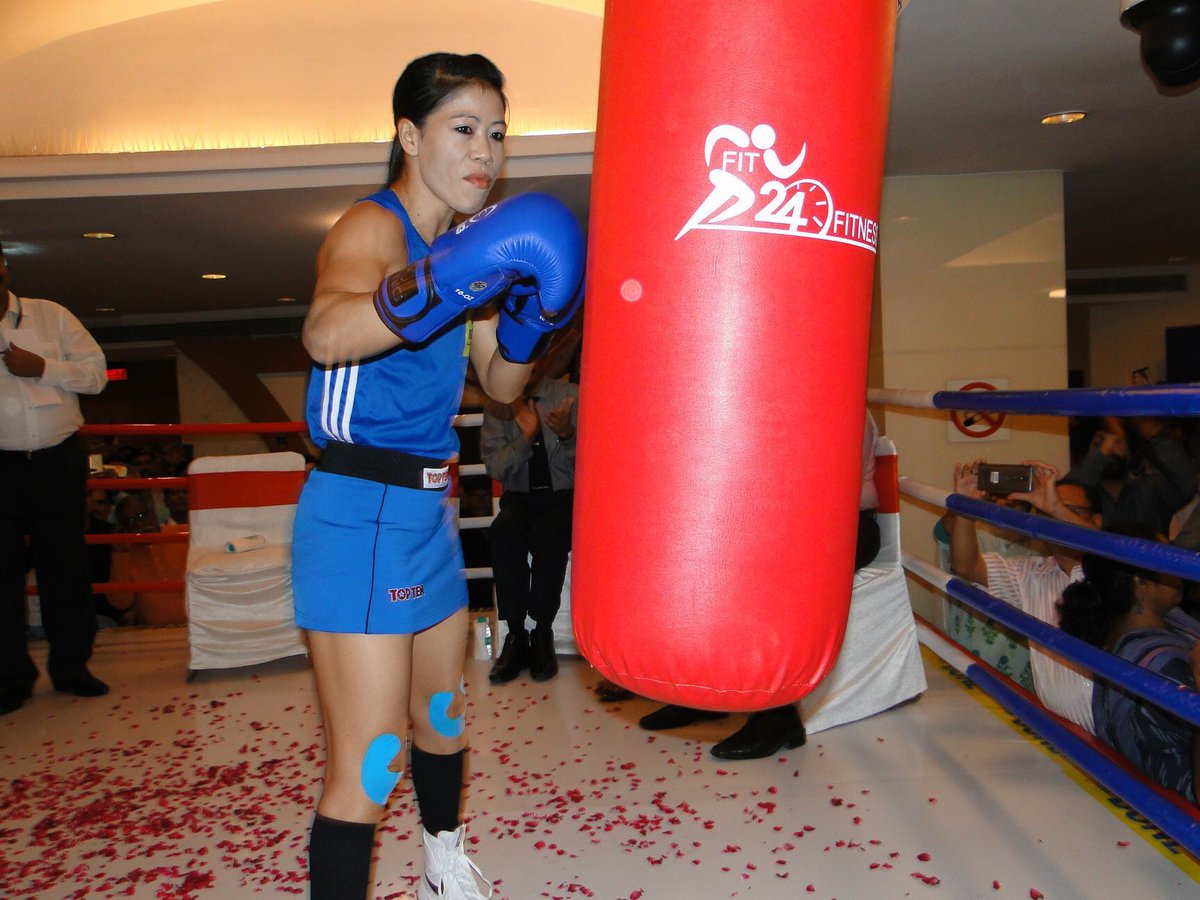 Harpal Singh Bedi / New Delhi
Five time champion M.C. Mary Kom will lead the 10-member Indian challenge in the AIBA Women's World Boxing Championships starting at the IG Stadium here from Wednesday in which 300 boxers from 73 countries will battle it out in 10 weight categories, making it the biggest single-disciple event after the FIFA Youth World Cup held last year in the national capital.
Keeping in view the importance of the championships, boxers from 12 countries arrived here a week before to get themselves acclimatized to the conditions and spar with pugilists from other countries to prepare for the final showdown.
All the boxers, especially the visitors, expressed their satisfaction at the facilities, calling it 'exceptional.' They even acknowledged it in their feedback to AIBA, which has been constantly interacting with them.
Talking to media persons here , Boxing Federation of India (BFI) president Ajay Singh said "I am happy all the boxers have had a wonderful time during their practice sessions. It was a priority for us as we were committed to take care of this aspect, providing them with similar conditions that will prevail during the championships," .
May Kom and other Indian boxers were confident of a good show and expected the crowd support to back them. "We have a distinct advantage in front of the home crowd and they will definitely shore up our confidence," said Mary Kom. "We have been training hard at the camp and are sure of doing well,"
The highlight of 10th edition will be that new countries—Scotland, Malta, Bangladesh, Cayman Islands, DR Congo, Mozambique, Sierra Leone and Somalia—are making their debut to make the New Delhi championships very special.
Several countries have sent young and experienced boxers with proven records, who are capable of running even the Olympic medallists close in each category. The contestants, especially from the US and Puerto Rico and some European countries apart from the Asian nations are expected to lead the way.
If India's top contender M.C. Mary Kom, who is chasing her dream of sixth world crown, is the favourite in 48 kg, there are other serious gold medal challengers like Virginia Fuchs (51 kg) from the US, Lin Yu Ting (54) from Taipei, Yin Junhua (57) from China, Mira Potkonen (60) from Finland, Simranjit Kaur (64) from India, Gu Hong (69) from China, Nouchka Fontijn (75) from the Netherlands, Wang Lina (81) and defending champion Yang Xiaoli (+81), both from China, to name a few, along with other Olympic and European championships medal winners.
Mira Potkonen, the only Finnish boxer to win medals in world championships (Asthana) and Olympics (Rio) was equally thrilled to be here. "I am looking forward to make this world event a memorable one for me personally and hope to win a gold medal," said the 37-year-old, whose ring craft and defence have been her assets.
On the other hand BFI has for the first time roped in 20 junior boxers, drawn from different states and academies, as volunteers. "This would give a lifetime opportunity to these young, budding boxers a ringside view to watch the bouts," said the BFI Chief.
The Indian team
Mary Kom (48 Kg), Pinky Jangra (51 Kg), Manisha Maun (54 Kg), Sonia (57 Kg), L Sarita Devi (60 Kg), Simranjit Kaur (64 Kg), Lovlina Borgohain (69 Kg), Saweety Boora (75 Kg), Bhagyabati Kachari (81 Kg) and Seem a Poonia (+81 Kg).