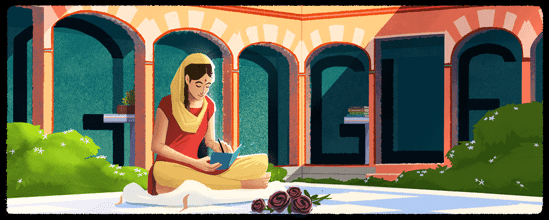 WEB DESK
Google today celebrates the 100th birthday of great women writer of south Asia Amrita Pritam. Considered as a progressive and path-breaking woman, Amrita rose to fame with her literary works like Pinjar, Suneray and Nagmani.
Amrita Pritam is considered the first eminent female Punjabi writer, novelist and poet of the 20th century. Her writing is equally loved by the people of India and Pakistan. In her over 6 decades long career, she produced over hundred works, including poetry, essays, novels, biographies, etc. She was honoured with prestigious awards like the 'Sahitya Akademi,' 'Bharatiya Jnanpith,' and 'Padma Vibhushan' among many others. One of her most famous novels titled 'Pinjar' was made into a movie of the same name. She also penned an autobiography, in which she expressed her audacity by writing about her personal life, which might be considered 'controversial' by many, even in contemporary India. Amrita Pritam is most remembered for her poem, 'Ajj aakhaan Waris Shah nu.'
Born to a Sikh family in Gujranwala, Pakistan, on August 31, 1919, Pritam crossed over to India after the Partition and several of her writings dealt with the pain she felt at the division of the sub-continent. The violence she witnessed at the time of Partition, in which innumerable people were killed in communal riots, was etched in her mind all through her life and formed the substance of a large part of her work. The only child of a school teacher-poet father, Pritam lost her mother when she was only 11. She was only 16 when she got married to an editor. Moving to Delhi after Partition, she began writing in Hindi too and worked for the All India Radio till 1961. Pritam got divorced in 1960, roughly the time when her writings started becoming more and more feminist, a reflection of her unhappy marriage. A winner of numerous literary awards, Pritam was given the Jnanpith Award for lifetime contribution to Punjabi literature in 1982. Among her famous books are the novels 'Pinjar', which was recreated on celluloid recently by director Chandra Prakash Diwedi, "Ek Thi Saara', Kachchi Sarak', Unchaas Din' and Adalat' and a collection of 29 stories of love and romance Alif Laila — Hazaar Dastan'.
Amrita was betrothed to Pritam Singh, the son of a wealthy businessman from Lahore. The wedding took place in 1935, when Amrita was still in her mid-teens. In her autobiographies, which were written years after her wedding, Amrita confessed that she did not have a healthy relationship with her husband and that her marriage was an unhappy experience.
In 1944, she met Sahir Ludhianvi, a fellow poet, who would later turn into a prominent film lyricist. Though she was already married to Pritam Singh, Amrita was strongly attracted to Sahir, the reminiscence of which she would later write down in her autobiography 'Rasidi Ticket.' She finally left her husband Pritam Singh in 1960, when her fascination for Sahir had reached its peak. However, Amrita always knew that it was almost impossible for her to establish a workable relationship with Sahir Ludhianvi.