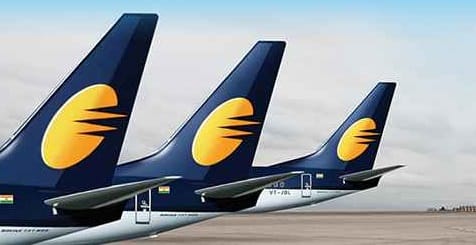 Sanjay Singh / New Delhi
A month after Jet Airways shut down its domestic and international operations, India's Civil Aviation regulator, Directorate General of Civil Aviation (DGCA) has de-registered 83 aircraft of Jet Airways, which includes two Boeing B777s and six Airbus A330s, both wide-bodied aircraft.
According to the latest data, DGCA has de-registered 67 aircraft of Boeing 737 family including the MAX type, eight ATRs, two B777 and six A330s.
The regulator is also mulling requests for de-registering 11 more Jet Airways planes.
Three Boeing 737s, six ATRs and two Boeing B777s are currently being considered for preregistration by the DGCA.
The aircraft lesse, Bank of Scotland PLC is the mortgagee of these two B777s and JIHB DAC from Ireland is the owner.
Jet before December 2018, had a total fleet size of around 119 planes and owned 16 planes including 10 Boeing 777s.
Despite the airline being shut down, the wide-bodied Boeing 777 planes in addition to slots and international traffic rights is a key asset for Jet Airways, while it looks out for an investor.
While Jet continues to look for a investor, its debt resolution program prepared by the lenders, accounted for refinancing of aircraft loans and additional secured facilities worth Rs 2,400 crore for 10 Boeing 777s and sale and leaseback of at least three Airbus A330 planes of the cash-strapped airline.
While there are a few takers for these unregistered B737s of Jet Airways in the domestic market, like SpiceJet, and government officials indicate that even Vistara is looking to add some B737s, there are still no interested parties for the B777s besides Air India.