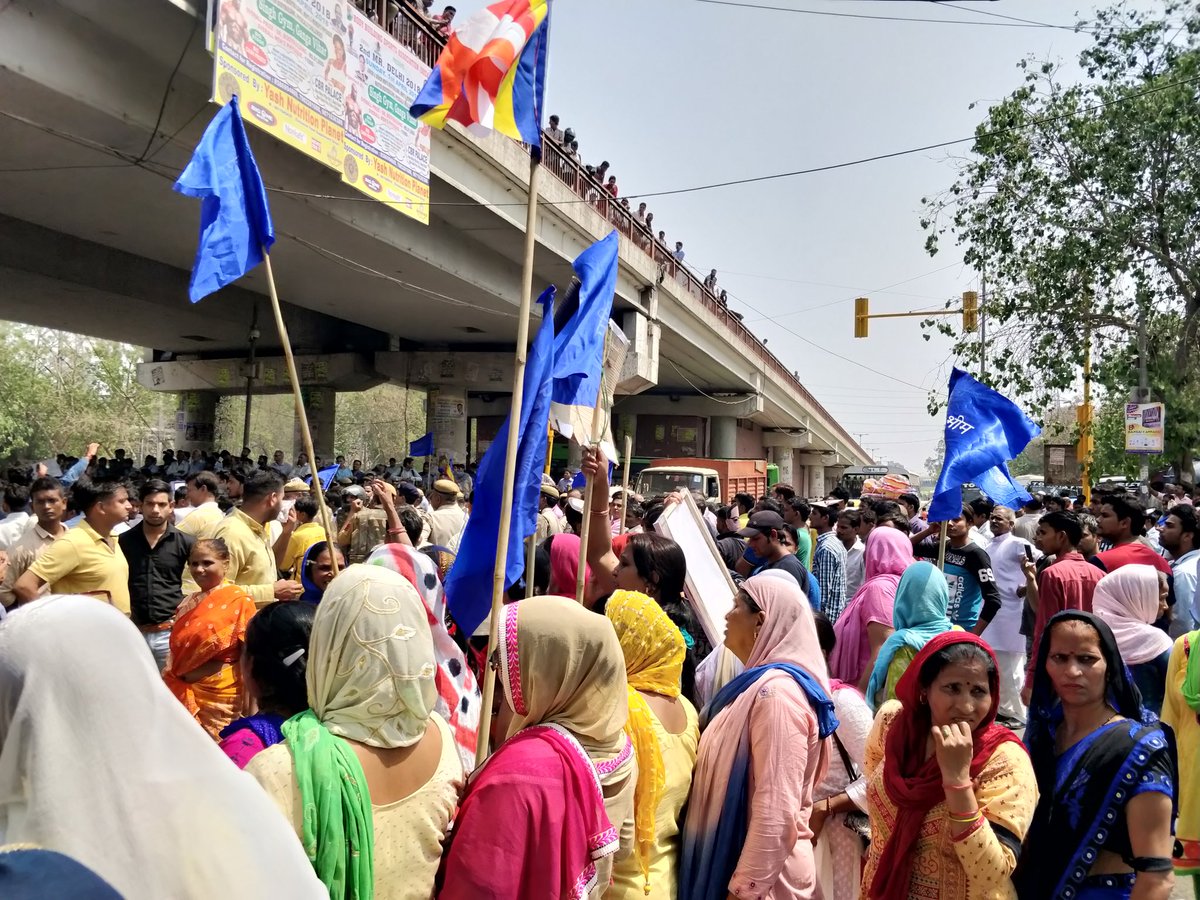 AMN
Bharat Bandh called by several Dalit organisations over the alleged "dilution" of SCs/STs (Prevention of Atrocities) Act disrupted normal life across several parts of India as protesters blocked rail and road traffic and resorted to violence and arson in Rajasthan, Odisha, Bihar, Uttar Pradesh and Haryana along with national capital.
The bandh supporters shouted slogans against the Modi government even as the Centre filed a review petition in Supreme Court challenging the top court's order banning automatic arrest and registration of cases for alleged harassment of SCs and STs.
In Punjab, hundreds of protesters from various Scheduled Caste (SC) organisations forced shopkeepers and other establishments in Jalandhar, Amritsar and Bathinda to shut down.
According to reports, demonstrators also entered the Jalandhar Cantt railway station, shouting slogans and burnt effigies on the tracks. Some highways and roads were also blocked.
Traffic in and around the cities is also affected.The final practical examinations of Class 10 and 12 of Punjab School Education Board, which were scheduled to be held today, will now be held on April 11.
In Rajasthan, protesters have blocked trains and buses, damaged Railway properties and blocked the highways at various places.
They have vandalized properties and put buses and private vehicles to fire at Alwar and other places. There are incidents of stone pelting and clashes between groups at Barmer, Jaislamer, Bikaner, Alwar, Jodhpur, Sikar and Bikaner.
ADG (Law and order) NRK Reddy said that additional police forces have been deployed in many cities including Jaipur and Jodhpur. He also told that police was forced to Lathi Charge and use tear Gas at many places to deal with the situation.
In Delhi, the protesters gathered at Mandi House and blocked the road outside the metro station. Traffic was brought to a halt causing inconvenience to commuters. Heavy police force was deployed at Mandi House in view of the protests.
Police have also closed the traffic movement on Sansad Marg from Patel Chowk to Jantar Mantar.