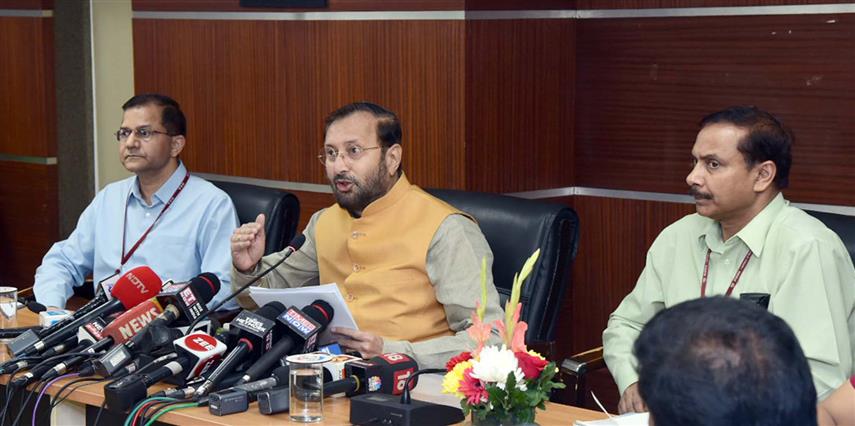 ONKAR SINGH / NEW DELHI
UNION Minister for Environment, Forest and Climate Change Prakash Javadekar has said 46 teams of the Central Pollution Control Board (CPCB) will take stock of pollution levels in Delhi-NCR from today and appropriate action will be taken thereafter wherever needed.
Addressing a press conference over central government initiatives to combat air pollution here today minister said that under the leadership of Prime minister Narendra Modi, the government recognised the problem and launched an air quality index, which led to greater public awareness and actions to control air pollution. He further explained ambient air quality monitoring network in Delhi and NCR has been strengthened.
The Minister said the focused actions had a positive impact on air quality. Out of 273 days till last month the number of good satisfactory and moderate days were 165 against 104 in 2016.
The minister said, a special scheme was launched to address air pollution due to stubble burning and under this scheme around 1100 crore rupees have been provided to state governments for providing subsidy on machinery required for in-situ management of crop residue.
Mr Javdekar said that to combat with vehicle pollution nearly 60 thousand crore rupees was spent on switching over to BS-VI fuels. He said that the country will shift to Bharat Stage Six (BS-VI) vehicular emission norms from BS-IV by April 2020. He said the department of heavy industries is providing subsidy on e-vehicles.
Over 20 thousand e-vehicles have been sold in Delhi under the scheme. He further said that an increase in the penalty for violation of PUC norms and implementation of RFID system at all the 13 entry points to the Capital is playing a vital role in combating air pollution. He said Delhi metro is one of the best metro networks in the country, due to which over 4 lakh motor vehicles are off the roads, thereby reducing pollution.
Mr Javadekar said the closure of Badarpur thermal plant of NTPC led to an estimated reduction of 8 tons of particulate matter, 44.7 tons of Sulphur dioxide and 128.4 tons of oxides of nitrogen emission per day.
The minister urged people to use green firecrackers only, this Diwali.