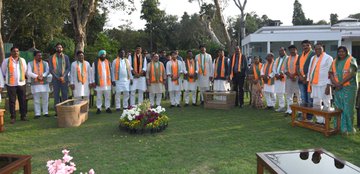 AMN
Twenty-two former Congress MLAs from Madhya Pradesh today joined the Bharatiya Janata Party.
They were inducted in the party in New Delhi in the presence of Party President J P Nadda, party leader Jyotiraditya Scindia and others.
Earlier, these former MLAs, believed to be Mr Scindia's supporters, met Mr Nadda at his residence.
These MLAs' resignations from the Madhya Pradesh Assembly had led to the fall of the Kamal Nath government in the state.