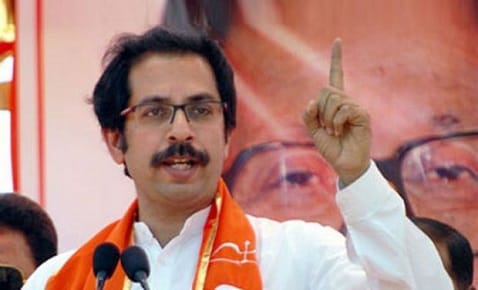 BJP too is confident of forming Govt in state
Political Desk /
With a claim of support of 170 MLAs, the Shiv Sena has decided to request the Maharashtra Governor to invite it to form the next government in Maharashtra.
Earlier in the day, Shiv Sena leader Sanjay Raut had claimed that his party has the support of 170 MLAs and is capable of forming the next government in Maharashtra, without the support of the Bharatiya Janata Party (BJP).

"We have more than 170 MLAs supporting us, the figure can even reach 175," he said while addressing a press conference in Mumbai. Meanwhile, Office of Maharashtra Governor has said that Shiv Sena leader Sanjay Raut along with other senior party leaders are scheduled to meet Governor Bhagat Singh Koshyari on Monday.

"The impasse continues. So far no discussion on the formation of the government has taken place. If talks happen it will only be on the chief minister's post. There is no communication gap from our side," Sanjay Raut added.

"Shiv Sena's not sitting in the market. Talks will only happen on the post of Chief Minister. If something is not decided mutually then we will show our power and make the chief minister from our party. People of Maharashtra want CM from Shiv Sena and also want liers to sit at home," he reiterated.
The Shiv Sena leader's remarks came after the Bharatiya Janata Party rejected its demand for sharing the chief minister's post.
Meanwhile two key players in the political drama – Devendra Fadnavis and Sharad Pawar–head to Delhi on Monday to decide on their next moves.
While NCP chief Sharad Pawar will meet Sonia Gandhi at her residence, BJP's CM pick Fadnavis will call on party chief and union home minister Amit Shah.
Although the meeting between Fadnavis and Shah has been called to discuss the drought relief measures for farmers, the two leaders are mainly going to discuss the stalemate in Maharashtra over government formation, sources told News18.
The impasse between the saffron allies, BJP and Shiv Sena, over their power-sharing pact has continued for 10 days after the result for Assembly polls were announced on October 24.
Both the BJP and the Shiv Sena have not made any new moves in the last couple of days, with both sides adamant on their positions and trying to drive a hard bargain. The Sena has made it clear that it would not settle for anything less than the sharing of the CM post, but BJP says it never promised that to its ally.
Amid the stalemate, Shiv Sena put the BJP on notice on Sunday as the party seems to have reached out to the Sharad Pawar-led party.