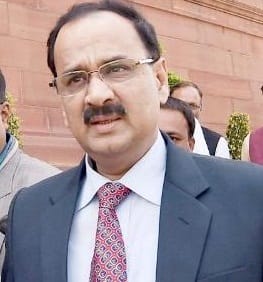 Alok Verma, on his return to work three months after being sent on leave by the government in a midnight swoop, took a series of decisions; he cancelled the transfers of 10 officers and transferred five others.
Staff writer / New Delhi
CBI Director Alok Verma, who was reinstated to the post by the Supreme Court on Tuesday, has been transferred. He has been appointed Director General, Fire Services, Civil Defence and Home Guards.
The Selection Committee, headed by Prime Minister Narendra Modi, which appoints the CBI chief took the decision.
The three-member committee also comprises Leader of the single largest Opposition party in Lok Sabha Mallikarjun Kharge and Chief Justice of India Ranjan Gogoi's nominee, Justice A K Sikri.
Sources said the committee found Alok Verma's continuance in the post detrimental to institutional integrity. The decision was taken by a majority with Mallikarjun Kharge opposing the move.
The Appointments Committee of the Cabinet said M Nageshwar Rao, presently Additional Director, CBI will look after the duties of the Director.
Alok Verma was sent on forced leave by the government in a late-night order on 28th October last year in the wake of a feud between him and his deputy Special Director Rakesh Asthana. Later, he challenged the order in the Supreme Court which reinstated him, quashing the government order.
Mallikarjun Kharge, the dissenting member of the panel, questioned how Mr Verma could be removed without a hearing and argued that he should be restored to "ensure independence and neutrality of CBI". Arguing that the CVC report lacked "substantial findings" against Mr Verma, Mr Kharge said his tenure should be extended since he lost 77 days after being "illegally' transferred".
Kharge, while opposing the decision, asked how can the charges be believed unless they are put through an inspection committee. A dissenting Kharge, sources added, also questioned the CVC report.
The Congress party took to Twitter to express its disagreement with the decision.
"By removing #AlokVerma from his position without giving him the chance to present his case, PM Modi has shown once again that he's too afraid of an investigation, either by an independent CBI director or by Parliament via JPC," tweeted Congress.
Verma, who resumed office on Wednesday, had revoked most of the transfers done by M Nageshwar Rao, who was appointed as the interim CBI chief in his absence, signalling that he was ready for a showdown with the Centre.
Government order
The Appointments Committee of the Cabinet has approved the following:-
Shri Alok Kumar Verma, IPS (AGMU:79) is transferred from the post of Director, CBI and posted as Director General, Fire Services, Civil Defence & Home Guards for the residual period of his present term ending on 31.01.2019.
As per the earlier arrangement, Shri M. Nageshwar Rao, IPS (OD:86), Additional Director, CBI will look after the duties of the Director, CBI till the appointment of a new Director, CBI or until further orders, whichever is earlier.