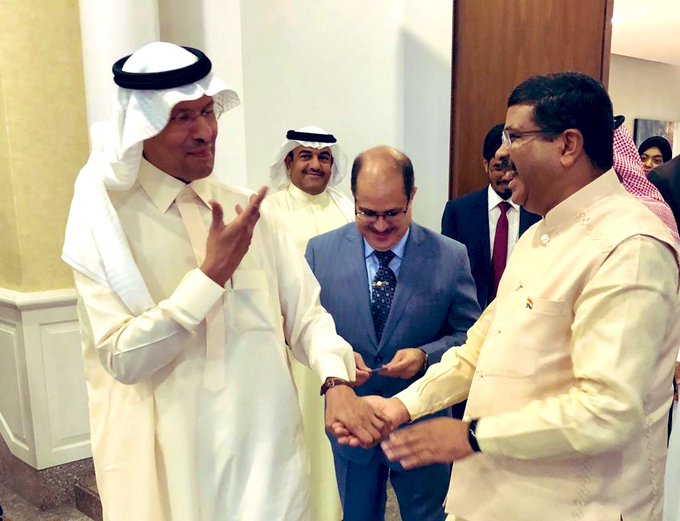 WEB DESK
Saudi Arabia has reiterated its commitment to remain a reliable and sustainable partner in hydrocarbon supplies and also on Saudi investments in India.
India's Minister of Petroleum & Natural Gas and Steel, Dharmendra Pradhan who is on his first leg of his tour to Saudi Arabia shared this on his twitter handle after his meeting with the newly appointed Saudi Minister of Energy Prince Abdulaziz bin Salman in Jeddah Sunday.
In an attempt to further the energy ties with the oil producing countries , Union Minister Pradhan accompanied by an official and business delegation, is on a visit to Saudi Arabia, UAE and Qatar from 7-12 September 2019 to engage with his counterparts in oil and gas as well as steel sectors in three countries.
Mr Pradhan will reach UAE tonight on a three day visit. He will participate in the 8th Asian Ministerial Energy Roundtable (AMER) at Abu Dhabi on 10th September, where India is the co-host along with UAE.
The Roundtable is scheduled to debate energy security in the age of change with a view to empower responsible growth in Asia and the world.
On the sidelines of the AMER Meet , the Union Minister is also expected to meet his counterparts from Asian region and Heads of international energy organisations, who are attending the Asian Ministerial Energy Roundtable and the World Energy Congress.
In the UAE, Pradhan is scheduled to meet his counterparts Suhail Mohamed Faraj Al Mazrouei, Minister of Energy and Industry and Sultan Ahmad Al Jaber, Minister of State and ADNOC Group CEO and discuss issues of bilateral hydrocarbon as well as steel sector engagement within the overall framework of India-UAE Strategic Partnership.
The Roundtable Conference is coinciding with the 24th World Energy Congress, which is being held from 9th to 12th September 2019 in Abu Dhabi.