AMN / Camp: Buenos Aires (Argentina)
Lok Sabha Speaker Mrs. Sumitra Mahajan has said that machines may automate work but human beings are not about work or job only, they also need love, care, compassion and empathy. So machines can never completely replace human beings.
She was speaking on the theme Future of Work at the Parliamentary Forum and Speakers' Summit organized by the National Congress of Argentina and the IPU, Buenos Aires from 31 October to 2 November 2018,
Mrs. Mahajan mentioned that expert opinion is divided on the impact of automation technology like artificial intelligence (AI), robotics, Block Chain etc. Though there is threat of loss of jobs for unskilled workforce is looming large, yet new jobs would also be created in newer areas along with improvement in quality of life for people. She felt that flexibility in working hours and place could bring opportunities and empower the women and disabled leading to more inclusive growth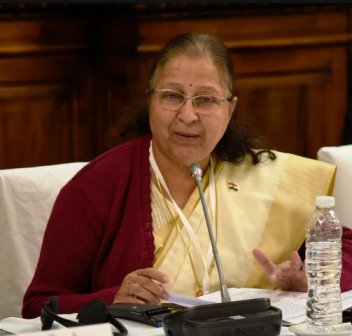 Observing that the skill requirements are going to shift because people are going to be working alongside highly capable machines, she opined that human and machine intelligence can be considered complementary, rather than conflicting. In this context, she felt that governments in particular should consider updating the definitions of employment to account for freelance and gig economy work. In addition, business formation and bankruptcy rules could be updated to make it easier to launch—and exit—a business as an entrepreneur, she felt.
Talking about India, Mrs Mahajan mentioned that the Government has made large investments in infrastructure sector highways, renewable energy, urban transport, affordable housing etc. The overall push for entrepreneurship through innovative schemes such as Stand-Up India, Start-Up India,Digital India is also beginning to positively impact jobs and opportunities for livelihoods, she said.
She said that parliamentarians have a great responsibility in urging their respective governments to address the emerging challenges thoughtfully and imaginatively. They must come out with enabling legislations and policy interventions to cope with the impact of technological advances and automation on the lives of the people.