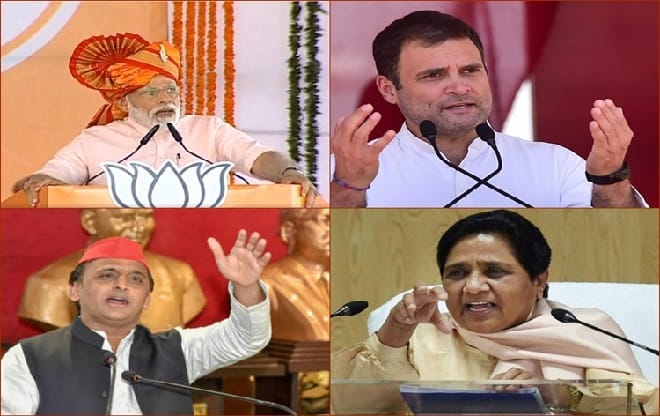 AMN
Electioneering is in full swing in 59 constituencies in different states which will go to poll on May 19.  Congress President Rahul Gandhi campaigned at Kushinagar in Uttar Pradesh and Patna in Bihar. He said, if voted to power the party will waive off farmers loans and implement the Nyay scheme which will give a jump start to the Indian economy and will generate employment for the people.
The Congress President said, demonetization has ruined the economy and business.
Campaigning at Maharajganj in Uttar Pradesh, party general secretary Priyanka Gandhi Vadra said, BJP government cannot be trusted again as it failed to keep up its earlier promises. She promised that Congress will fill vacant posts in government departments if it comes to power.
Senior BJP leader and Prime Minister Narendra Modi said that NDA government has fought against terrorism and naxalism and ensured a corruption free government.
He addressed an election rally in Mirzapur, Uttar Pradesh. Mr Modi said, development has been the first priority of the NDA government and it will continue to work for it if voted back to power.
He alleged that earlier governments of Samajwadi Party, Bahujan Samaj Party looted public money during their regimes and pushed Mirzapur into naxalism.
Prime Minister said, sanitation and water were the two biggest problems for women and by constructing toilets for all the government solved the sanitation issue which benefited girls and women a lot.
Bahujan Samaj Party President Mayawati and Samajwadi President Akhilesh Yadav held a joint rally of the BSP-SP alliance in Varanasi. Ms Mayawati said, Narendra Modi government failed to fulfill the promises it made in 2014. Ms Mayawati said, SP and BSP exist today because Congress didn't work sincerely for the welfare of Dalits.
Samajwadi Party Chief Akhilesh Yadav said, Prime Minister Narendra Modi had promised to turn Kashi into Japanese city of Kyoto but there is no improvement.
Senior BJP leader and Union Home Minister Rajnath Singh addressed rallies at Kullu district in Himachal Pradesh and Shaheed Bhagat Singh Nagar district in Punjab. He said, the NDA government was successful in curbing corruption and contained inflation to a great extent.
Actor turned Politician and BJP candidate from Gurdaspur Sunny Deol held a rally at Batala and conducted a roadshow in Bathinda in Punjab.
Congress leader and Punjab Chief Minister Captain Amarinder Singh addressed a rally at Zirakpur. AAP National Convenor and Delhi Chief Minister Arvind Kejriwal conducted a roadshow at Faridkot.
Electioneering is in full swing in Madhya Pradesh. The seventh and final phase of Lok Sabha elections will cover 13 seats in Uttar Pradesh; all 13 in Punjab; nine in West Bengal; eight each in Bihar and Madhya Pradesh; all four constituencies in Himachal Pradesh; three in Jharkhand and the lone seat of Chandigarh.
Counting of votes will take place on the 23rd of this month