76th World Health Assembly -BRICS Health Ministers Meeting 2023
By Andalib Akhter
India's Minister of Health & Family Welfare Dr. Mansukh Mandaviya has shared India's commitment to eliminating tuberculosis (TB) by 2025, five years ahead of the set target under SDG 3.3. he said that India has implemented comprehensive initiatives focused not only on treatment but also on nutritional assistance through community support, resulting in a reduction of 13% in TB incidence and 15% in TB mortality from 2015 to 2022, surpassing global reductions in both categories.
Dr. Mansukh Mandaviya was addressing the BRICS Health Ministers Meeting 2023 on the side-lines of the World Health Assembly in Geneva. The meeting brought together health ministers from BRICS member countries- Brazil, China, Russia, and South Africa.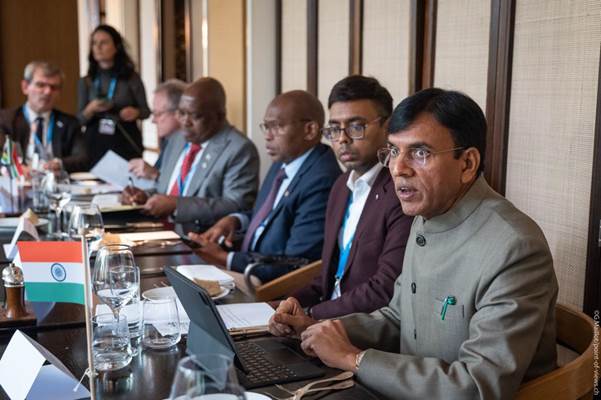 Recognising the burden of TB in BRICS countries, Dr. Mandaviya suggested expanding the collaboration within the BRICS TB research network to create a safe and effective vaccine. He proposed discussing a framework for collaboration in the 13th meeting of the network to further increase joint efforts.
Dr. Mandaviya further said, "Disease knows no borders, and collective efforts must transcend national boundaries." Hence he stressed the importance of collaboration in surveillance, research and development, information sharing, and establishing joint response mechanisms to prevent disease outbreaks and epidemics from turning into pandemics.
while addressing the Quad Plus Side Event on Tuberculosis during the 76th World Health Assembly in Geneva. He said that India is the only country in the world to have developed its own mechanism for estimating its TB burden. He added that the country has witnessed a 13 percent reduction in TB incidents from 2015 to 2022, surpassing the global reduction rate of 10 percent.
The Minister also said that TB mortality in India has decreased by 15 percent during the same period, compared to the global reduction rate of 5.9 percent. He said that by employing a mathematical model based on local evidence, the country can now determine the true burden of the disease well ahead of the annual World Health Organization report. Recognizing the importance of early diagnosis, treatment, and preventive measures, Dr. Mandaviya said, India has taken diagnostics and treatment to the patients at the last mile to identify all missing cases and reach the unreached.
He said the country has established over 1.5 lakh Health and Wellness Centres which provide TB diagnostics and care to all patients, along with a host of other primary healthcare services to ensure Universal Health Coverage to each and every patient. Dr. Mandaviya also highlighted India's successful collaboration with the private sector, enabling quality care for TB patients through their preferred centers, clinics, and doctors. As a result, notifications from the private sector have increased more than seven fold over the past nine years.