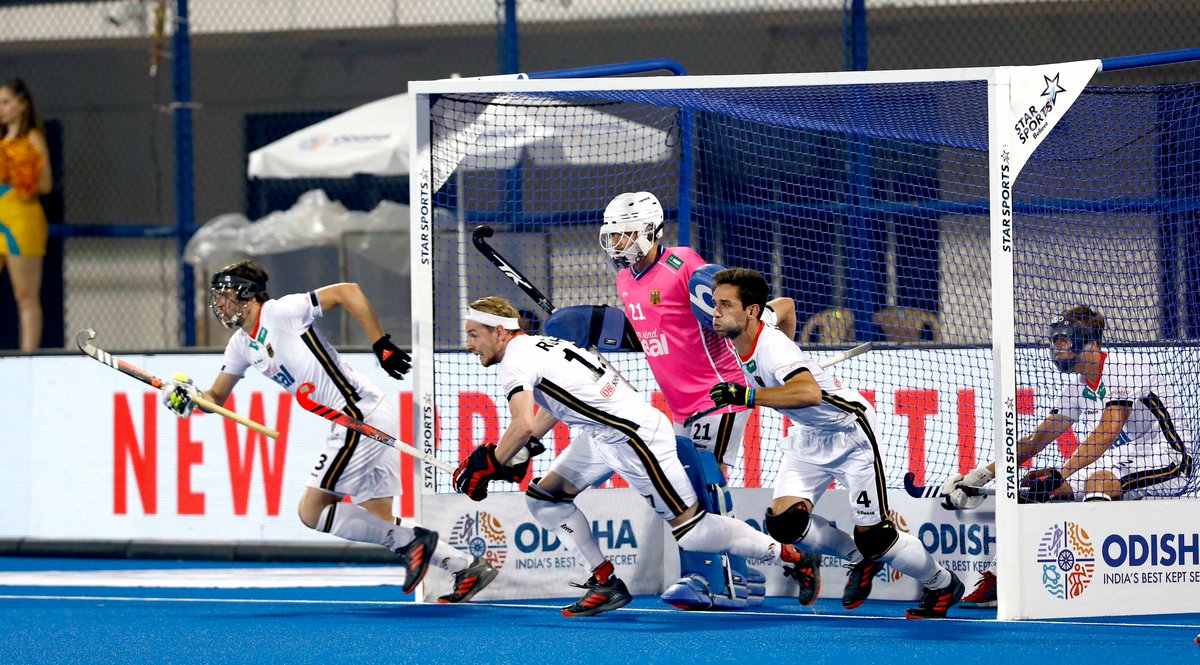 Harpal Singh Bedi / Bhubaneswar
Two- Time champion Germany huffed and puffed before putting it across determined Malaysia 5-3 to top pool D with all win record and qualified for the quarterfinals of the 14th Hockey World Cup at Kalinga stadium here today.
Germany and three-time winner and defending champion Australia are the only two teams who made it to the quarterfinals directly by winning all their league matches in the respective pools.
For the Germans who led 3-2 at half time, the Goal Scorers were Timm Herzbruch (2nd, 59th) Christopher Ruhr (14th, 18th) and Marco Miltkau(39th) For Malaysia Razie Rahim (26th,42nd) and Nabil Noor ( 28th) reduced the margin.
The Germans made their intentions clear from the very start as they went on the offensive and forced a penalty which was converted by Timm Herzbruch to give his side an early lead (1-0)
The Germans increased the pressure and forced their third penalty corner in the 14th minute . Mats Grambusch took the shot, which was cleared by a defender but on the rebound Ruhr placed the ball home to make it 2-0
Four minutes later Germans increased the lead when Dan Nguyen intercepted a ball and set up Christopher Ruhr who ran down from the flank into Malaysian circle and sent the ball home with a furious shot (3-0).
As it looked that Germans were cruising towards a big win , Malaysian against the run of the play earned two back to back penalty corners . Faizal Saari 's drag flick was blocked by Lukas Windfeder but Razie Rahim converted the second (1-3)
.@DHB_hockey cruise through the Quarter Finals of the OHMWC Bhubaneswar 2018 after pulling off a magnificent display of might against @malaysiahockey on 9th December. #IndiaKaGame #DilHockey #HWC2018 #MASvGER pic.twitter.com/oI9qMi97r9

— Hockey India (@TheHockeyIndia) December 9, 2018
The goal saw the Malaysian Tigers having their tails up as they earned yet another penalty corner and this time Nabil Noor scored from a variation fter Razie Rahim relayed the ball towards the goal.
The two quick goals stunned the Germans who suddenly found themselves clueless and from 3-0 they were 3-2 a half time.
The second session was tense affair with Germans looking bit nervous and Malaysian all rejuvenated .However the former champion regrouped themselves and in the 9th minute of this session increased the lead through Marco Miltkau who showing great agility deflected the ball home (4-2) Even before the Germans could breathe easy Malaysia hit back earning another penalty corner and Razie Rahim. Made n mistake n converting it to reduce the gap again.
The remaining 19 minutes saw both the teams fighting it out bitterly ,Germany defending their lead while Malaysians going all out for equalisers Just before the final whistle unmarked Timm Herzbruch ran down the left flank the send the ball home to seal the match for his side (5-3)