WEB DESK
Andhra Pradesh Chief Minister YS Jagan Mohan Reddy greeted Muslims on the occasion of Eid on Wednesday. The YSRCP chief took to twitter to extend his greetings to all the Muslims.
"To all my Muslim brethren, #EidMubarak! On this happy occasion, I wish you and your family, good health, happiness and prosperity," YS Jagan tweeted.
He also posted a picture of himself and his father late Dr YS Rajasekhar Reddy on Facebook to greet AP citizens on the occasion of Eid.
Madhya Pradesh CM greets people on Eid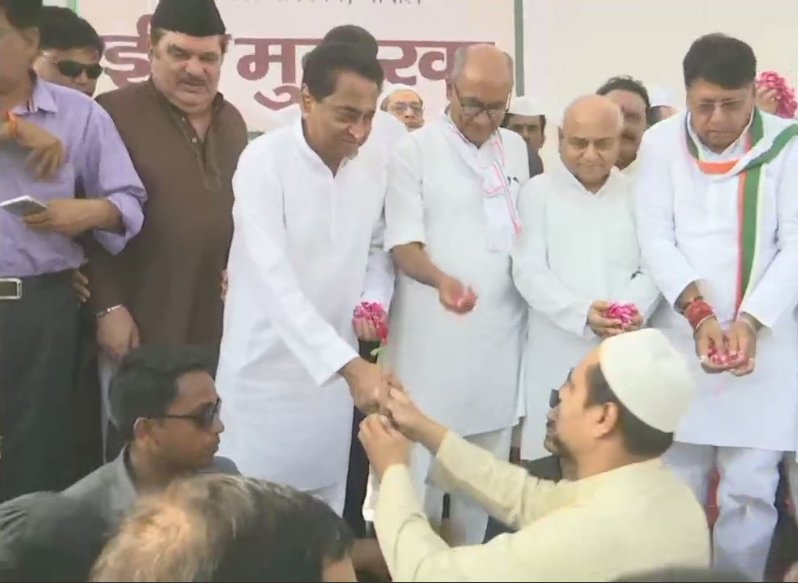 आप सभी को ईद की दिली मुबारकबाद। रमजान के पवित्र माह के बाद मनायी जाने वाली ईद समाज में शांति, प्रेम और भाईचारे का सन्देश देती है। यह त्यौहार हमारी राष्ट्रीय एकता और आपसी सौहार्द को और अधिक मजबूत बनाने का अवसर भी प्रदान करता है।
Eid greetings to all of you. The Eid, which is celebrated after the holy month of Ramzan, gives a message of peace, love and brotherhood in the Society. The festival also provides an opportunity to further strengthen our national unity and mutual harmony.
Telangana Guv,CM greet Muslims on Eid
HYDERABAD
Governor ESL Narsimhan on Tuesday conveyed his greetings to the people of the State on the occasion of Eid-ul-Fitr. In a message here, the Governor said, the teachings of Holy Quran shaped the lives of society over the ages since the advent of the Prophet. "The holy Ramzan is a reminder to us of the purpose of life as ordained by God and that only through rigorous self-discipline it is possible to realize the life eternal. On this Holy Eid-ul-Fitr day, let us redeem our pledge to respect the dignity of human-being, the sanctity of life and the solemnity of all faiths", he said.
Telangana Chief Minister K. Chandrashekhar Rao also greeted Muslims on the auspicious occasion The CM said that ' Eid-ul-Fitr marks the conclusion of the period of fasting and prayer during the holy month of Ramzan and infuses the spirit of fraternity, brotherhood and the spirit of harmony'.
Chhattisgarh CM Baghel reaches Idgah to exchange Eid greetings
Chhattisgarh Chief Minister Bhupesh Baghel on the occasion of Eid ul-Fitr reached the Idgah Bhata ground on Wednesday in capital city, Raipur and exchanged Eid greetings.
He was accompanied by MLAs Satyanarayan Sharma and Kuldeep Juneja.
Jama Masjid Imam Ahmed Kari, Mohammed Ahmed, Rustam Ahmed along with community office bearers and members were present. Earlier, the community members offered special 'Eid namaz'.
Chief Minister then visited the residence of forest and environment minister Mohammed Akbar at Maudhapara to extend Eid greetings.
He also visited the residence of Mohammed Ahmed at Idgahbhata, Hassan Khan and Hamid Hayat at Byron Bazar and Salam Rizvi and Najim Nizam's residence at Nayapara Gausiya Square.
आपसी भाईचारा, शांति एवं सद्भाव का संदेश अपने आप में समाहित किये यह ईद का त्यौहार हम सबके जीवन में सुख एवं समृद्धि लेकर आये।

आप सभी प्रदेशवासियों को ईद की तहे दिल से मुबारकबाद!#EidMubarak

— Bhupesh Baghel (@bhupeshbaghel) June 5, 2019
Jharkhand CM Raghubar Das congratulates people on Eid
RANCHI
Chief Minister, Raghubar Das congratulated the people of Jharkhand on Eid ul Fitr.In his tweet on the festival. He had also inaugurated Jharkhand's first Haj House in the city on Tuesday.
The preparation for Eid ul-Fitr in the city had started early on. Shops were giving away discounts and catchy coupons for people to greet the festival with new clothes and eatables. Men clad in white, women in shiny attires and children in traditional outfits were seen exchanging wishes on the streets of Ranchi.
In addition to this the main road area of the city was lined up with stalls of vermicelli, dry fruits, perfumes and sweets.
On Eid UP CM focuse on cleanliness
The Uttar Pradesh Chief Minister Yogi Adityanath directed the district administration and the officials of the local bodies to ensure a special cleanliness system at the places where the Eid ul Fitr prayers will be done.
Warm greeting from Odisha CM
Warm greetings for all on the auspicious occasion of Eid-ul-Fitr. May the spirit of Eid bring happiness and strengthen the spirit of brotherhood & amity in the society. #EidMubarak pic.twitter.com/M7X2Y46u8K

— Naveen Patnaik (@Naveen_Odisha) June 5, 2019
Maha CM greets on Eid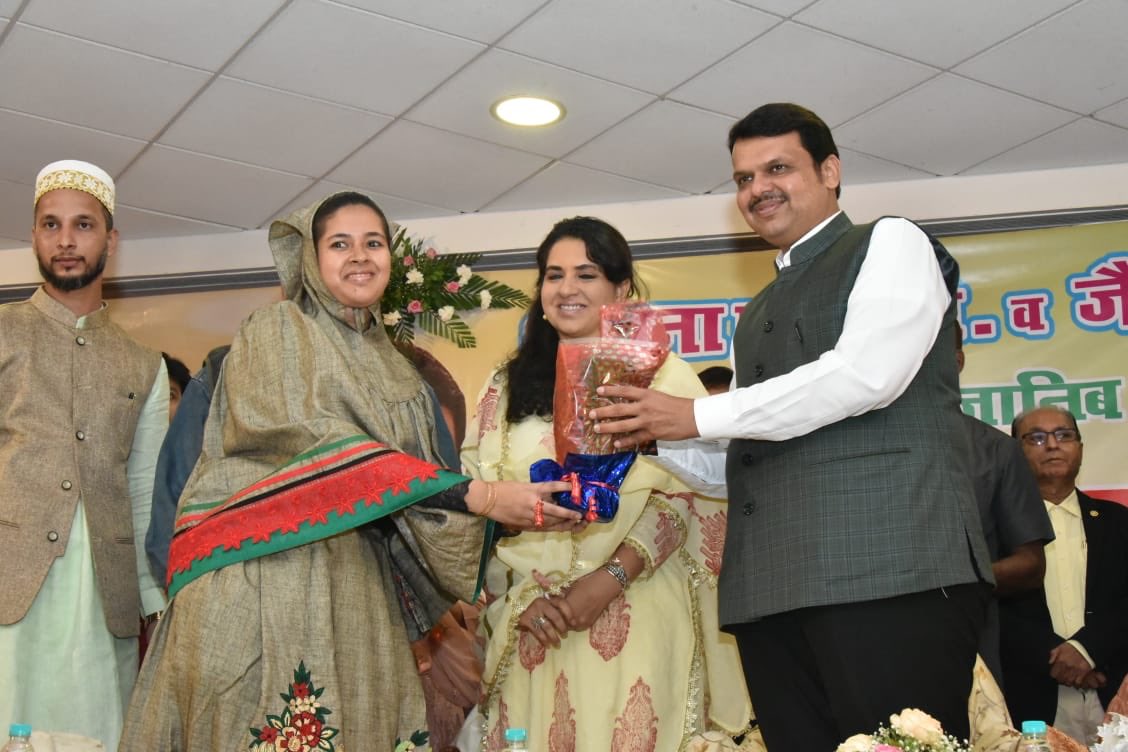 #EidMubarak !
Heartiest greetings on the auspicious occasion of #IdUlFitr ! pic.twitter.com/Q7IEieHTxP

— Devendra Fadnavis (@Dev_Fadnavis) June 5, 2019
HDK greets people on Eid
Bengaluru
Chief Minister HD Kumaraswamy on Wednesday greeted people on Eid-ul-Fitr, saying that may this day ignite the spirit of peace and harmony.
In a tweet, Kumaraswamy said, " Happy Eid to all, May God fill ur life with peace and happiness. Let us all celebrate d festival with love & togetherness."
Meanwhile, BJP state president BS Yeddyurappa also tweeted, "On this occasion of Eid-ul-Fitr, I extend my heartfelt greetings and wishes to everyone."
Yeddyurappa also posted a signed message greeting people in Kannada.
J&K Governor greets people on Eid-ul-Fitr
Jammu and Kashmir Governor Satya Pal Malik conveyed heartiest wishes to the people of the state on the eve of Eid-ul-Fitr, which is likely to be celebrated on Wednesday.
"The governor has prayed to the almighty to keep the humanity firm in its faith and good deeds and bless people with a good life," a Raj Bhawan spokesperson said.
Malik has expressed hope that this occasion would be the harbinger of peace, progress, prosperity and happiness and would strengthen the bonds of communal harmony, brotherhood and amity, which are the hallmarks of J&K's glorious pluralistic traditions, the spokesperson added.
CM Nitish Kumar greets on Eid
Patna
Chief Minister Nitish Kumar reached Gandhi Maidan and greeted everyone on Eid. He also replied to Bhartiya Janta Party leader and union minister Giriraj Singh without naming him. He said: "He who speaks of the respect of his religion and not of another religion is not religious, unreligious. We must express respect for all religions.
Nitish said that there is a use of sledging against each other in the society. This must stop. Everyone should respect each other. That is the religion. Whether you have any religion. The teachings of all are to do your job with love and respect for the other. Moreover, if someone thinks around, he is not a religious person. Not his faith in religion. He wants to defame Dharma. We all pray to the people to keep the love and goodwill.