Harpal Singh Bedi / Bhubaneswar
England survived some anxious moments before overcoming spirited Ireland 4-2 to record their first win in the pool B and stay alive in the tournament as the Green Machine became the second team to exit the 14th Hockey world Cup at Kalinga stadium, Bhubaneswar on Friday.
The draw would have seen both them teams making it to the cross over phase, but Irish defeat meant that despite the 11-0 thrashing from Australia in the earlier match China stay put in the tournament.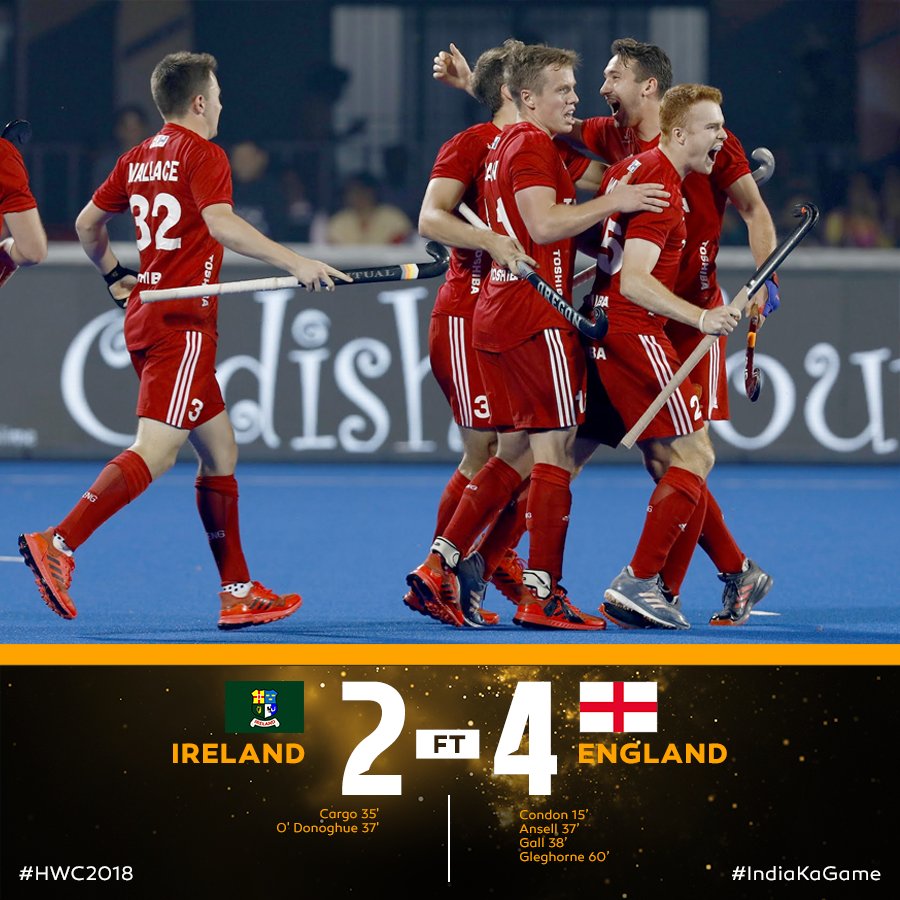 For England who led 1-0 at half time, the goal scorers were David Condon (15th), Liam Ansell(37th), James Gall (38th), Mark Gleghorne(60th). For Ireland, Chris Cargo(35th), Shane O Donoghue (37th) chipped with a goal each
The gripping match between the two neighbours produced a stunning third quarter in which teams traded four goals in a space of three minutes.
England, though much higher ranked, had a very tentative tournament so far before this game, having drawn 2-2 with China and lost 0-3 to Australia, played to a plan but muffed chances as they forced their first penalty corner in the 5th minute but Mark Gleghorne..However their pressure paid off as they took the lead in the 15th minute through David Condon (1-0).
The English held on to this lead till the next 20 minute before Ireland equalised though Chris Cargo whose deflections inside the circle found the target (1-1).
A big drama followed as England regained the lead in two minutes when striker Laim Ansell 'beat the keeper with a ferocious strike into the far right corner (2-1) In a minute this lead was neutralised . when Shane O'Donoughe converted a penalty corner (2-2)
Few seconds later Liam Sanford set up onrushing James Gall who flicked the ball home past the experienced David Harte .(3-2)
Ireland tried hard to equalise but as the ticked away they got into panic mode and fumbled with chances a couple of penalty corner.
A seconds before the close, England were awarded a penalty corner and Mark Gleghorne sent the ball into the cave (4-2)
In the cross over matches to be played on Monday to decide the quarter finalists, France will play China, New Zealand faces England.
xxx