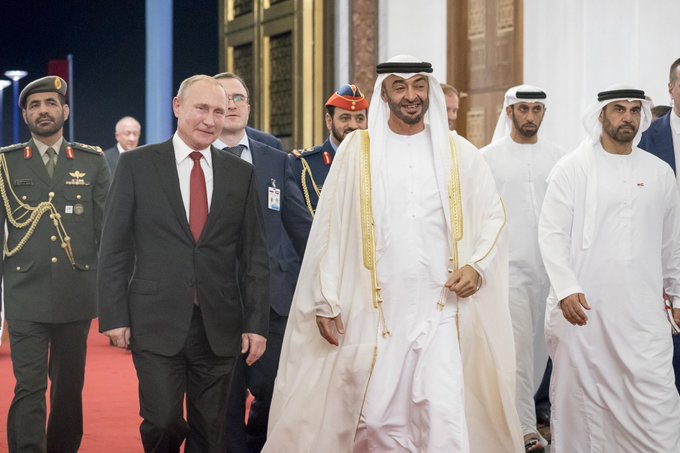 WEB DESK
Russian President Vladimir Putin arrived in UAE yesterday, to what is being termed as a 'historic visit', to a warm welcome.
Sheikh Mohamed bin Zayed Al Nahyan, Crown Prince of Abu Dhabi and Deputy Supreme Commander of the UAE Armed Forces received him at the Presidential Airport. This is Putin's first visit to the UAE after 2007.
The Crown Prince of Abu Dhabi in a tweet said, he welcomes President Vladimir Putin as an honoured guest to the UAE. He said the historic visit reflects the strength of UAE-Russia relations, which they will continue to jointly promote at all levels for the mutual benefit of the two nations.
The two leaders later witnessed the signing of several agreements and memoranda of understanding between the UAE and Russia. The Emirates News Agency said that the agreements span various vital sectors, including trade and investment, and sustainability and environment, intending to develop strategic partnerships between the UAE and Russia further.
At a delegation-level meeting at the Qasr Al Watan or the Presidential Palace, Mr Putin said bilateral relations between Russian and the UAE are developing in a friendly and constructive atmosphere. Sheikh Mohamed thanked Mr Putin for his visit. The Crown Prince also said that Moscow is like his second home.
The bilateral relationship with Russia has enabled the UAE to send its first astronaut to space earlier this month.
Besides the bilateral ties, the two leaders are also expected to discuss regional and international developments.