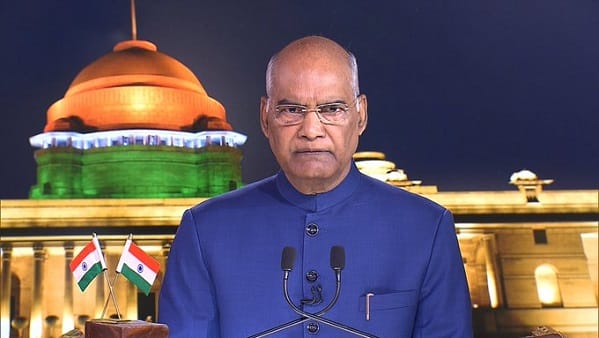 BISHESHWAR MISHRA / NEW DELHI
President Ram Nath Kovind today said that the recent changes made in Jammu-Kashmir and Ladakh would be of immense benefit to those regions. "I am confident that the recent changes made in Jammu-Kashmir and Ladakh would be of immense benefit to those regions", President said while addressing the nation on the eve of 73rd Independence Day.
He said this will enable the people to access and enjoy the same rights, same privileges and same facilities as their fellow citizens in the rest of the country. These include progressive, egalitarian laws and provisions related to the Right to Education, accessing public information through the Right to Information, reservations in education and employment and other facilities for traditionally deprived communities and justice for our daughters by abolishing unequal practices such as instant triple talaq.
The President said, India is completing 72 years as a free nation at a very special juncture. Mr Kovind said, the illustrious generation that led the country to freedom did not perceive independence only in terms of transfer of political power. They considered it a stepping stone in a longer and larger process of nation-building and national welding.
Mr Kovind expressed happiness that the recently concluded session of Parliament saw lengthy and productive sittings of both the Lok Sabha and the Rajya Sabha. He said many important Bills were passed, in a spirit of cross-party cooperation and constructive debate. Their objective was to improve the life of each individual, each family and of society as a whole.
The President highlighted that India has rarely been a judgemental society through the centuries. He said India has always had a live-and-let-live organising principle where people respect each other's identity, irrespective of region, language or faith, or even the absence of faith. He added that India's history and destiny, India's legacy and future, are a function of coexistence and conciliation, of reform and reconciliation.
Speaking about the country's youth, Mr Kovind said the greatest gift which can be given to young and coming generations is to encourage and institutionalise a culture of curiosity, especially in the classroom. He said people can achieve a lot given a facilitative and enabling environment by the government. He said the government can build financial infrastructure in the form of a transparent, inclusive banking system, an online-friendly tax system and easier access to capital for legitimate entrepreneurs. President Kovind cited that the government can build physical infrastructure in the form of housing for the poorest of the poor, and availability of energy, toilets and water in every home.
Mr Kovind said it is crucial for society to use and nurture this infrastructure for the benefit of themselves and society. Giving examples, he said rural roads and better connectivity have meaning only if farmers use them to reach bigger markets and get better prices for their produce. He added that fiscal reforms and easier regulations have meaning only if entrepreneurs use these to build honest and imaginative enterprises and create sustainable jobs. He stressed that to cherish and safeguard such infrastructure is to secure another aspect of the country's hard-won freedom.
The President said on 2nd of October, the nation will celebrate the 150th birth anniversary of the Father of Nation, Mahatma Gandhi. Mr Kovind said, contemporary India is very different from the India in which Mahatma Gandhi lived and worked but Gandhiji remains extremely relevant.
President said, this year also marks the 550th birth anniversary of Guru Nanak, the founder of Sikhism, and the reverence and respect he commands go far beyond just our Sikh brothers and sisters.
Mr Kovind concluded his speech by reciting a few lines in Tamil from the inspirational poet Subramania Bharati, which gave voice to the country's freedom movement and its expansive goals.