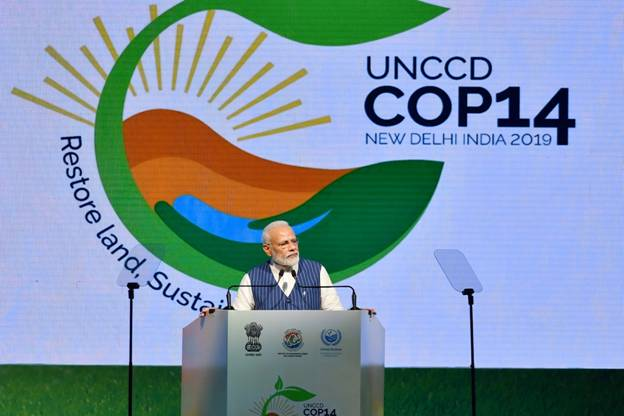 AMN / GREATER NOIDA
Prime Minister Narendra Modi today said that augmenting water supply, enhancing water recharge and retaining moisture in the soil are all parts of a holistic land and water strategy.
The PM said that India looks forward to making an effective contribution as we take over the co presidency for a two year term. For ages we in India have always given importance to land. In Indian culture the Earth is held as sacred and treated as a mother.
Addressing the 14th Conference of Parties (COP14) of the UN Convention to Combat Desertification(UNCCD)in Greater Noida, Uttar Pradesh, Mr Modi proposed initiatives for greater South-South cooperation in addressing issues of climate change, biodiversity and land degradation.
He called upon the leadership of UNCCD to conceive a global water action agenda which is central to the Land Degradation Neutrality strategy. He said, India will be happy to help other friendly countries to develop land restoration strategies through cost effective satellite and space technology.
Reiterating his clarion call to ban single use plastic, Prime Minister said that time has come for the world to say goodbye to single use plastic. He added, apart from having adverse health implications, plastic renders lands unfit for agriculture. He affirmed India's commitment towards development of environment friendly substitutes of plastic.
The Prime Minister said, the country has increased its tree and forest cover by 0.8 million hectares between 2015 to 2017. He said, last week, funds amounting to nearly six billion dollars have been released to state governments in lieu of such diversion for development of forest lands. The Prime Minister also spoke about initiatives like per drop more crop saying the country is focusing on zero budget natural farming.
India is hosting global gathering for COP 14 in Greater Noida which started on 2nd of this month. Prime Minister said this reflects our commitments to addressing the concerns of Rio convention of 1992. Speaking on the occasion, Prime Minister of St. Vincent and the Grenadines Dr Ralph Gonsalves acknowledged and appreciated Government of India and Prime Minister's initiatives taken in favour of the environment. Deputy Secretary-General of United Nations Amina J Mohammed stressed on the urgency of upscaling the efforts to reach Land Degradation Neutrality by 2030.
The Executive Secretary of UN Convention to Combat Desertification Ibrahim Thiaw emphasized how Sustainable Development Goal 15 Land for Life is achievable if all nations work together without inequalities and insecurities.