AMN / New Delhi
Concerned over shrinking green cover and increasing air pollution in Delhi, more than 200 followers of Mata Amritanandamayi Devi followers planted one lakh seed balls in forest areas of Delhi.
People from different backgrounds and age groups, from school students to elders, came together from the cities of Delhi, Gurgaon and Faridabad. They spread out in various groups and spent more than six hours planting one lakh seed balls in the challenging terrain and wilderness of the Rajokri / Ghitorni forest area of the national capital.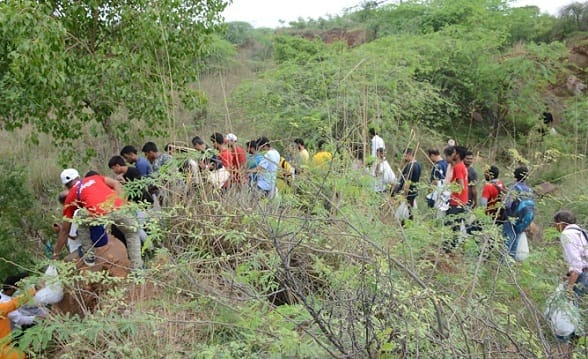 The volunteers included youth from the Delhi-NCR chapter of AYUDH (the youth wing of Mata Amritanandamayi Math). These volunteers organized seed ball workshops across various schools and organizations in Delhi-NCR over the past one month, including Air India, Amrita Vidyalayam School, Deep Public School, Alpine Convent School and Ankur School. The seedballs were made over the past many weeks by volunteer groups that included young school kids, youth, middle aged people and the elderly. Each group had taken the challenge of making a specified number of seedballs to contribute to the mission of greening Delhi.
"Seed balls are a mixture of soil, compost and plant seeds. They are an easy and sustainable way to cultivate plants and a step towards conserving the natural ecosystem. With the Monsoon having set in, these planted seedballs will ultimately mature into trees, resulting in increased green cover in Delhi-NCR, providing much-needed oxygen, improving air quality and climate, conserving water, preserving soil, and supporting wildlife. This massive plantation driveorganized by the followers of Mata Amritanandamayi created awareness among the residents of these cities about the importance of forests and the value of preserving and planting trees," Said Brahmachari Nijamrita Chaitanya of Mata Amritanandamayi Math
As a member organization of the United Nations' Trillion Trees Campaign, Mata Amritanandamayi Math has organized the planting of more than a million trees globally, and has been recognized as an NGO with Special Consultative status to the UN ECOSOC (Economic and Social Council) and now conducts a significant portion of the UN's work on the ground in India. AYUDH is also working internationally to meet the SDGs put forth by the United Nations.