Staff Reporter / NEW DELHI
The annual International Urdu Day Awards have been announced.  These awards are generally given to those working for upliftement of Urdu in various fields. Awards are jointly given by Urdu Development Organisation and United Muslim of India on International Urdu Day (November 9) every year.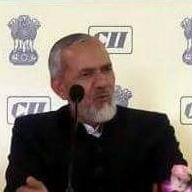 Patron of Urdu Development Organisation and United Muslim of India, Dr Syed Ahmad Khan told media persons that like every year, this year too, on the occasion of birth anniversary of renowned poet Allama Iqbal, the awards will be given at an impressive ceremony in New Delhi.
According to him those who have been selected for awards include Om Praksah Soni, journalist of Amritsar; Khayal Ansari (Editor Khair Andesh) of Malegaon; Dr Yamin Ansari (Inquilab); Prof Syed Fazalulah Qadri of Patna; Jai Chand (Virat Vaibahv); Ms Farida Rahmatullah of Bangalore; Andalib Akhter (The Indian Awaaz); Farman Choudhary (Doordarshan): Narendra Kumar (Photography).
This year award for publication is given to Manshoraat Publishers, New Delhi.
On the occasion of Urdu Day a souvenir on Munshi Premchand will also be released. For which Syed Ahmad Khan himself, Sohail Anjum, Md Arif and Javed Akhter are working devotedly.