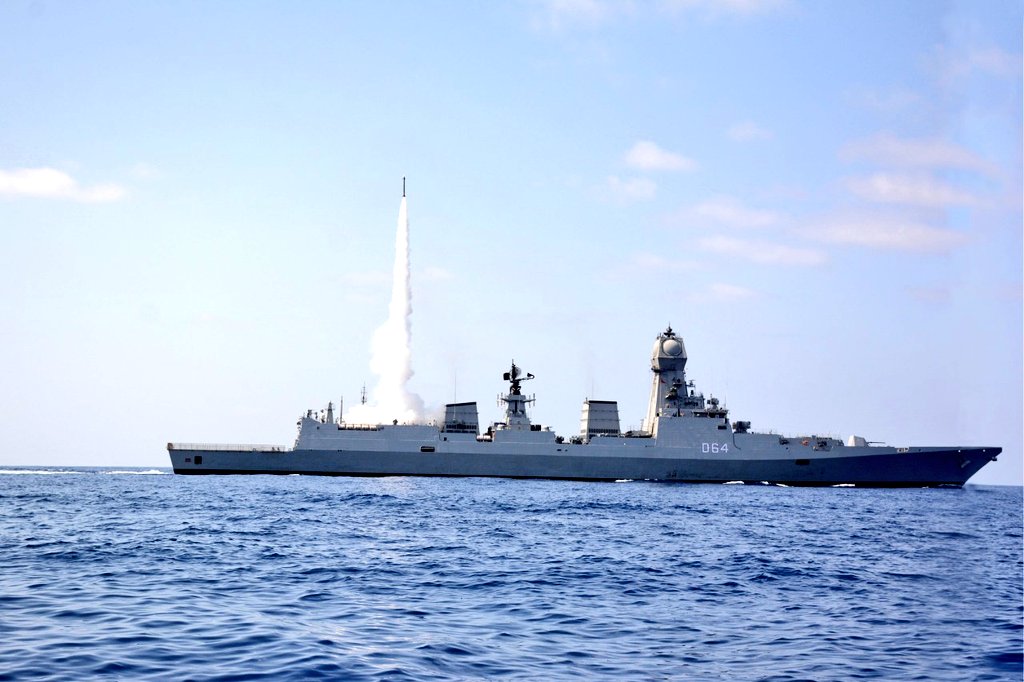 PIC@INDIAN NAVY
By a Correspondent / New Delhi
The Indian Navy has joined a select group of navies across the globe with the maiden cooperative engagement firing of the Medium Range Surface to Air Missile (MRSAM).
With the successful proving of this cooperative mode of engagement, the Indian Navy has achieved a significant milestone in enhancing its Anti-Air Warfare Capability. The trials were undertaken on the Western Seaboard by Indian Naval ships Kochi and Chennai. Both the ships were controlled by one ship to intercept different aerial targets at extended ranges.
The successful conduct of the test has been the result of the sustained efforts by all stakeholders over the years. DRDL Hyderabad, a Defence Research and Development (DRDO) laboratory has jointly developed this missile in collaboration with Israel Aerospace Industries (IAI), Rafael, and Elta Systems.
The MRSAM has been manufactured by Bharat Dynamics Limited (BDL) after the trials were carried out the Indian Navy, DRDO, and Israel Aerospace Industries. This air defence system is already in service with Indian air and ground forces as well as the Israeli Navy.
During the tests the interception tests, the Indian Navy assessed the operational force of the MSRAM and how it can be doubled regionally. The tests had also demonstrated the advanced technological capabilities of the air defence system, as well as the collaborations between Indian Navy, IAI, and the Indian local industry.
According to officials, besides being fitted on board the Kolkata Class Destroyer, these made in India will also be fitted on all future major warships of the navy. With this capability, it significantly enhances the combat effectiveness of the Indian Navy and providing an operational edge over potential adversaries.
The MRSAM has the capability of providing defence against air, marine and ground threats. It has several systems which include a digital radar, command and control, launchers, and interceptors with advanced homing seekers.
Earlier this year, the state-owned Israel Aerospace Industries (IAI) had signed agreements worth $93m with the Indian Navy and Cochin Shipyard Limited (CSL) to provide the naval version of the medium-range surface-to-air missile (MRSAM) systems. There is also the provision of complementary systems for the air defence system (ADS) as well as follow-up orders for a range of maintenance and other services for various sub-systems of IAI's advanced MSRAM ADS in the contracts.