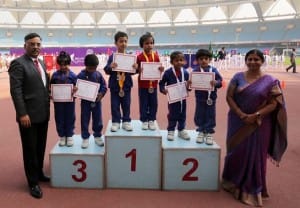 Our Correspondent / New Delhi
The Annual Sports Meet of Hillwoods Academy, Preet Vihar was held on November 26, 2017 at Jawaharlal Nehru Stadium where various sporting events were held amid cheers from spectators.
The chief guest Dr. Bertrand de Hartingh, a high ranking official of the French embassy in India opened the meet. The chief guest Aditya Vikram, Chief Commissioner Income Tax released the school souvenir titled 'Expressions 2017'. The chief guest also distributed awards to the winners. The prestigious Arjun Awardee Ram Mehar Singh was guest of honour.
"Gold medals aren't made of gold; they are made of sweat, determination and hard work, "said the chief guest.
The chief guest was given the Guard of Honour by the NCC girls, school band and the march past contingent. This was entailed by the unfurling of the school flag and the declaration of the meet open by the chief guest, marking the commencement of the ceremony followed by the lighting of the torch flame by the team leaders. A spectacular, impressive and well synchronized march past by the four house contingents rendered the spectators speechless and awestruck.
Thereafter, the Head Boy administered oath and a splendid band display enthralled everyone with its grandeur and perfect coordination. It was followed by the presentation of the school report by Principal Madam. She gave in detail the milestones achieved by the students in various sports events. The first copy of the school magazine expressions 2017 with its theme as 'Women and sports' was released.
The display included 'Shaking with shapes and numbers', 'Amazing wings', 'Chuckling tiny tots' , 'Stop Ready Go' , 'Let's go green' and 'Heal the world'. The drills gave the message of healing the mother Earth and urging everyone to go green. The drills left everybody spellbound.
This was followed by the track events including races for students from classes Nursery to XII. The races of parents and alumni were also held to make them remember their school days.
In his address the chief guest praised the event describing it as an exemplary and lauded teachers and students for their flawless presentation. This entailed the prize distribution ceremony.
FOLLOW INDIAN AWAAZ ON TWITTER