US congressman Bradley Sherman had proposed to attach Rakhine state with Bangladesh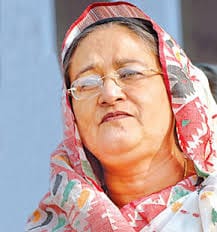 WEB DESK
Bangladesh's Prime Minister Sheikh Hasina on Monday rejected a proposal put forward by a U.S. congressman to annex Rakhine state of Myanmar to Bangladesh.
"Why they want the Rakhine State to attach to us. Every state is sovereign […] the U.S. congressman showed his audacity by placing such proposal," Hasina said in a press conference in the capital Dhaka, aired live on state-run BTV.
On June 13, U.S. Congressman Bradley Sherman placed the proposal of bringing Rakhine state of Myanmar under Bangladesh in a hearing on the State Department's budget for South Asia.
Hasina said her country has provided shelter to Rohingya people on humanitarian ground.
"Despite the pressure of huge Myanmar nationals [Rohingya] in Cox's Bazar of Bangladesh, we are still upholding friendly relationship with Myanmar," she added.
Persecuted people
The Rohingya, described by the UN as the world's most persecuted people, have faced heightened fears of attack since dozens were killed in communal violence in 2012.
According to Amnesty International, more than 750,000 Rohingya refugees, mostly women and children, have fled Myanmar and crossed into Bangladesh after Myanmar forces launched a crackdown on the minority Muslim community in August 2017.
Since then, nearly 24,000 Rohingya Muslims have been killed by Myanmar's state forces, according to a report by the Ontario International Development Agency (OIDA).