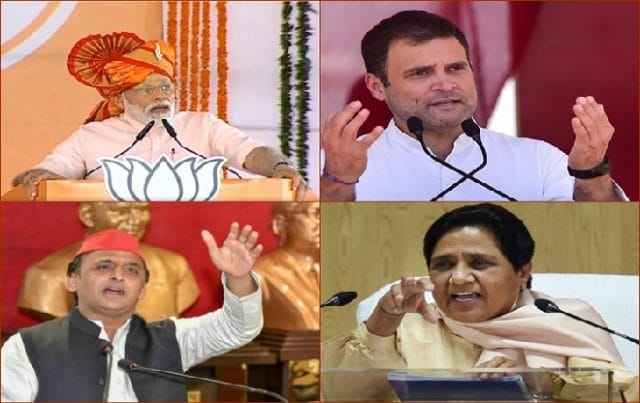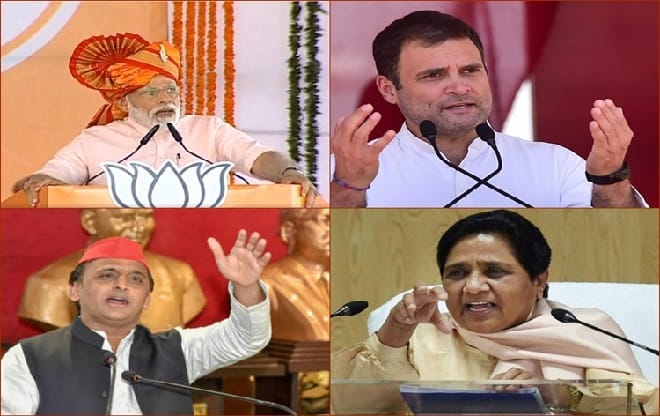 AGENCIES
Leaders across political spectrum holding rallies and roadshows for the third phase of Lok Sabha elections.  Voting, in this phase, will be held in 116 constituencies, across 13 states and 2 Union Territories, on Tuesday.
These include, all 26 constituencies in Gujarat, 20 in Kerala; 14 each in Maharashtra and Karnataka; 10 in Uttar Pradesh; Seven in Chhattisgarh; Six in Odisha; five each in Bihar and West Bengal; four in Assam; Two in Goa, One each in Jammu and Kashmir, Dadra and Nagar Haveli, Daman and Diu and Tripura.
Election to Tripura (East) was postponed to the third phase over security reasons.
In Gujarat, national and state leaders of the BJP and the Congress addressed a series of public meetings on Friday.
Addressing two election rallies in Bodeli of Chhota Udepur district and Malanpada in Valsad district, BJP president Amit Shah said that Modi government has already delivered development for the country, but the real issue is the security of the nation.
Congress President Rahul Gandhi also addressed a public rally at Bajipura in Tapi district and said, if his party is voted to power, there will be separate Budget for farmers.
Mr Gandhi assured the gathering that under the NYAY scheme every poor family would be provided 72,000 rupees per annum that will help at least five crore families.
An unidentified person slapped Congress leader Hardik Patel when he was addressing a public rally in Surendranagar district.
In Uttar Pradesh, electioneering has intensified as polling approaches for the third phase of Lok Sabha elections. Leaders from many political parties crisscrossed today. Samajwadi Party patriarch Mulayam Singh Yadav and BSP chief Mayawati held a joint rally at Mainpuri.
The two shared the dais after more than two decades. We have a report from our correspondent:
In Maharashtra, poll campaigning is at peak for the third phase of the polling. Our correspondent reports that 14 parliamentary constituencies will go to polls in this phase. A report:-
Meanwhile, Scrutiny of nominations for the fifth phase will be held tomorrow, with Monday being the last date for withdrawal of candidature. 51 constituencies, spread over seven states, will go to polls on the 6th of next month.
In Madhya Pradesh, a total of 198 nominations have been filed for the 5th phase. For the sixth phase, 15 nominations have been filed so far.