AMN / Kolkata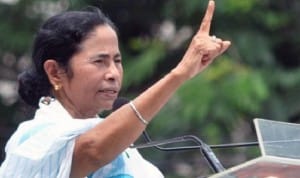 West Bengal Chief Minister Mamata Banerjee today blamed Congress leader Rahul Gandhi for BJP's win in Tripura elections and predicted that the saffron party would be wiped out in 2019 Parliamentary polls.
"I would say the Congress leadership has provided oxygen to BJP in Tripura," Ms Banerjee said and warned that the saffron party would face elimination in 2019 polls starting from Madhya Pradesh, Karntaka and Rajashtan.
Reacting to the outcome of Tripura's general elections in which the BJP unseated 25 years rule of CPI(M) led Left Front government, Ms Banerjee, who is also the chairperson of All India Trinamool Congress, said while the CPI(M) abjectly surrendered to the "force and source of BJP" the Congress was also to be blamed for rise of BJP in that state.
" I told Rahul Gandhi for having an electoral alliance in the 60-member Tripura assembly poll with 14 sets for hill parties, 16 for AITC and 30 seats for the Congress but my offer was not heeded by the Congress party," Ms Banerjee revealed today.
She said the CPI(M) got 45 per cent votes compared to BJP's 50 per cent but an electoral  alliance with AITC, Congress and regional parties of Tripura would have other equation in the hustings.
" Congress must take the blame for this (result). They are the ones who provided oxygen to the BJP. I had personally offered to create a common platform to combat BJP, but they had rejected my offer," Ms Banerjee reacted critically.
"They pumped in massive money, got people from outside and used Central force to conduct the polls. There were issues with the EVM machines too. I am amazed why the CPI(M) did not protest all this.They totally surrendered themselves. Anti-incumbency was obvious, given that Left has been in power for long. But had the Congress fought seriously, BJP would have been contained to just 10 seats," the chief minster alleged.
Ms Banerjee said the BJP would also face defeat in Odissa and West Bengal