Congres Party president Rahul Gandhi also asserted that his party will not allow ideology of BJP and RSS to win.
WEB DESK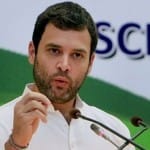 Congress President Rahul Gandhi on Saturday praised Imam Rashidi of Asansol and Yashpal Saxena from Delhi, as both of them appealed for peace despite losing their sons in communal violence.
He also asserted that his party will not allow ideology of BJP and RSS to win.
"After losing their sons due to hate and communalism, messages from Yashpal Saxena and Imam Rashidi show that love will always defeat hatred in India. The foundation of Congress rests on compassion and mutual brotherhood. We will not allow the hatred spreading BJP/RSS ideology to win," Gandhi tweeted in Hindi attaching messages from both the fathers.
Yashpal Sexena's son Ankit Saxena was killed on 1 February by the family of a woman he was in a relationship with.
According to Delhi Police, the woman's family was against their relationship as they belonged to different communities and had told him to end it.
Asansol mosque Imam, Maulana Imdadul Rashidi's 16-year-old son became a victim of violence, triggered by Ram Navami processions in West Bengal.
Both the fathers had appealed for peace.
अपने बेटों को नफरत और सम्प्रदायिकता के कारण खोने के बाद यशपाल सक्सेना और इमाम रशीदी के संदेश ये दिखाते हैं कि हिन्दुस्तान में हमेशा प्यार नफरत को हराएगा।

कांग्रेस की नींव भी करुणा और आपसी भाईचारे पर टिकी है। हम नफरत फैलाने वाली BJP/RSS की विचारधारा को जीतने नहीं देंगे। pic.twitter.com/5smEqBm8gK

— Rahul Gandhi (@RahulGandhi) March 31, 2018
The appeal of peace by Maulana Imdadul Rashidi, Imam of a mosque in Asansol, following the mysterious death of his son has brought a sense of calm in Asansol.
Rashidi's 16-year-old son went missing after communal clashes in Rail Par area on Tuesday. His body was found on Wednesday night and identified on Thursday.
As per The Indian Express news report, the imam of a mosque in West Bengal's Asansol told a congregation that he would leave the mosque and town if there was any retaliation for his son's death in Ram Navami-related violence.
His appeal at the time of a major loss in his life is being seen as the major instrument in calming the community in Asansol.
As per report, "The Imam was instrumental in calming the angry youth and cooperated with the administration. We are proud of him. Despite the pain he is suffering following the loss of a son, he appealed for peace," said Jitendra Tiwari, Mayor of Asansol.
"We did not expect this from a father who has just lost his son. This is an example, not only for Bengal but for the entire country. People started to cry after his speech. I was present there… I was awestruck. There was anger among the youth after the body was found, but the message for peace struck the right chord. He is popular in the area. If he had not appealed for peace, Asansol would have been caught in a fire," said Mohammed Nasim Ansari, councillor of Ward 25 in Asansol, where the victim's family lives.