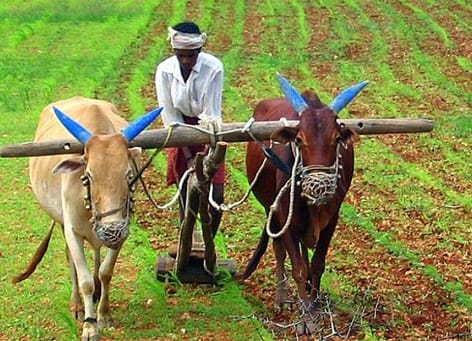 AMN / NEW DELHI
The Union Budget presented by Finance Minister Nirmala Sitharaman today focused on the government's 10-point vision for the next decade to take India to newer heights. Ms Sitharaman told the Lok Sabha that the government will invest widely in agricultural infrastructure and support private entrepreneurship in driving value addition to farmers produce and those from allied activities too, like bamboo, timber and also for generating renewable energy.
The government has proposed to increase budget allocation for the Ministry of Agriculture and Farmers Welfare by over 78 per cent to 1.39 lakh crore rupees for the current fiscal. She said, out of the total amount, 75,000 crore rupees will be for the Pradhan Mantri Kisan Samman Nidhi.
Besides PM-KISAN, the government has proposed to increase the allocation for the Pradhan Mantri Fasal Bima Yojana (PMFBY) to 14,000 crore rupees for the current fiscal against the revised estimate of over 12,975 crore rupees for the 2018-19.
To ensure Minimum Support Price (MSP) in times of steep fall in rates, the government has proposed to increase the allocation by 1,000 crore to 3,000 crore rupees for intervening in the market in such times under the Market Intervention Scheme and Price Support Scheme (MIS-PSS). For the Pradhan Mantri Krishi Sinchai Yojana (PMKSY), the government has proposed to raise the budget allocation to 3,500 crore rupees for this fiscal from around 2,954.69 crore rupees last year.
Aiming to double farmers' income by 2022, the government, Ms Sitharaman said, it will invest in a big way in developing infrastructure in both agriculture and allied farm sector, and encourage private entrepreneurs in food processing.
She said, to harness the potential in the fishery sector, the government proposed a Pradhan Mantri Matsya Sampada Yojana (PMMSY) to establish a robust fisheries management framework and check gaps in the value chain.
She also proposed setting up of 10,000 new Farmer Producer Organisations (FPOs) to ensure economies of scale for farmers over the next five years. The Fertilizer Subsidy allocations have seen a hike of around 10,000 crore rupees from 70,090 crores rupees to 79,996 crore rupees.
The Union Budget envisaged a total outlay of 27 lakh 86 thousand and 349 crore rupees out of which 3 lakh 18 thousand 931 crore rupees have been earmarked for Defence and an amount of over one lakh twelve thousand crore rupees for Defence Pension.