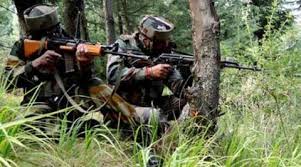 AGENCIES
Three unidentified terrorists were killed in separate encounters with security forces in Jammu & Kashmir today. Security sources said, two terrorists were killed during a counter-terrorist operation which was launched in Kalantra Kandi Kreeri area of Baramulla district last night.
Body of one terrorist has been retrieved so far. Five army personnel were injured with two sustaining grievous injuries during the ongoing operation.
Another terrorist was killed by security forces in an ongoing encounter at Mir Mohalla in Hajin area of Bandipora district this evening. Security sources said, one of the two civilians held hostage by terrorists in the area, has been rescued.
They said, the identity and group affiliation of the slain terrorist will be undertaken after conclusion of the operation. Details are awaited.