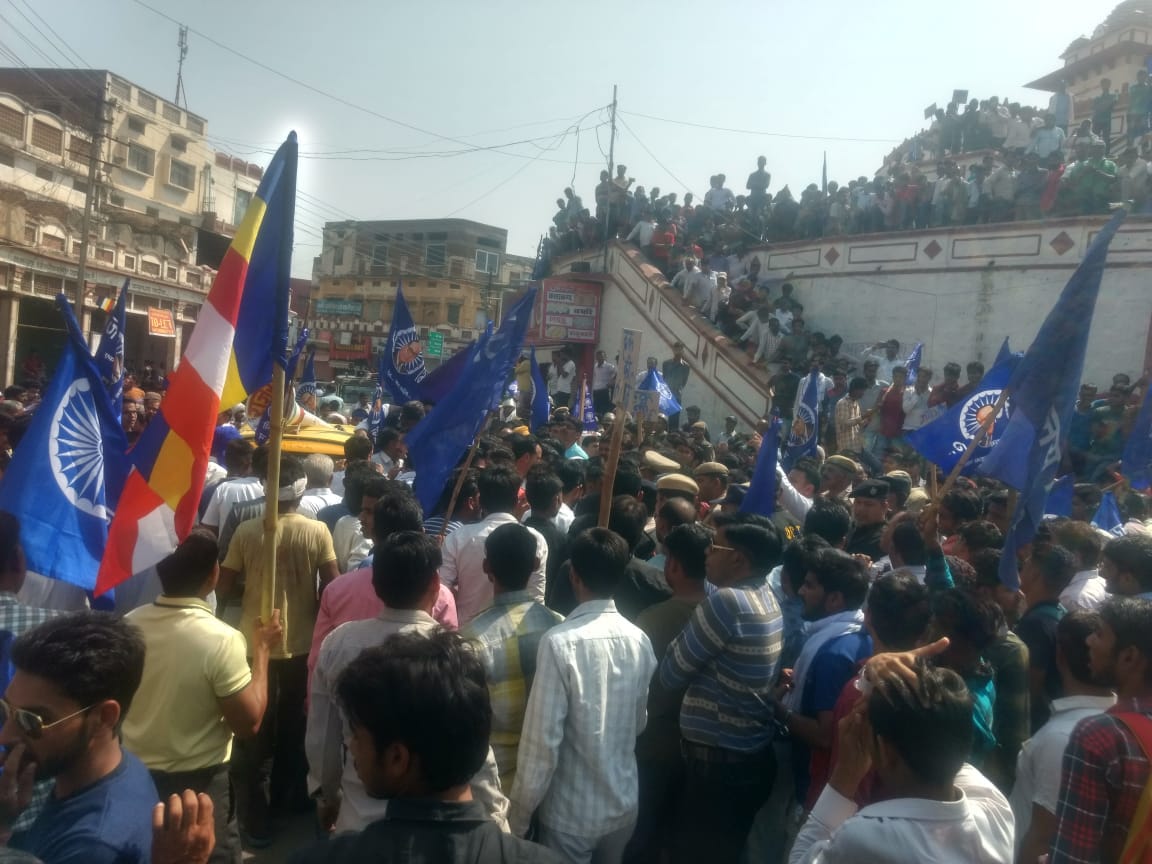 AMN / New Delhi
Union Home Minister Rajnath Singh today appealed to all Dalit groups and political parties to maintain peace as their agitation against the Supreme Court's decision on Scheduled Caste and Scheduled Tribes Protection Act turned violent.
The Home Minister, while talking to media in the premises of Parliament, said the government has filed a review petition in the apex court to reconsider the decision to 'dilute' provisions of the Scheduled Castes and Scheduled Tribes (Prevention of Atrocities) Act.
"We have filed the review petition in Supreme Court. I appeal to all political parties and groups to maintain peace and not incite violence," Mr Singh said.
Scattered violence has been reported in the states of Rajasthan, Bihar, Punjab, Uttar Pradesh, Madhya Pradesh and other states where Dalit groups are agitating against alleged dilution of SC/ST act by the apex court. "Our government is committed to safeguard the interests of SC/ST and their upliftment", he stressed.
Minister for Parliamentary Affairs Anant Kumar has also said in the Lok Sabha that that the Government was committed to the protection of SC and ST communities and therefore in the light of the Supreme Court order, the Government has already filed a review petition.
Meanwhile protesters blocked main roads in the morning hours leading to traffic congestion in different parts of the city. In Delhi, the Dalit organisations' protest began from from Mandi House with the protesters carrying out a march till Jantar Mantar. The large number of protesters were carrying flags and banners on roads which resulted in traffic jams.
'Motorists going towards Kalindi Kunj from Gazipur, Dallupura and DND are advice to avoid the stretch due to demonstration. Traffic has been diverted from Vasundhara Enclave. Obstruction in traffic on Khajoori Chowk due to demonstration. Kindly avoid the stretch.
Traffic movement on Sansad Marg from Patel Chowk to Jantar Mantar is closed due to demonstration. Motorists are requested to take alternate route,' Delhi Taffic Police tweeted. The protests on Monday also affected normal life in many states.