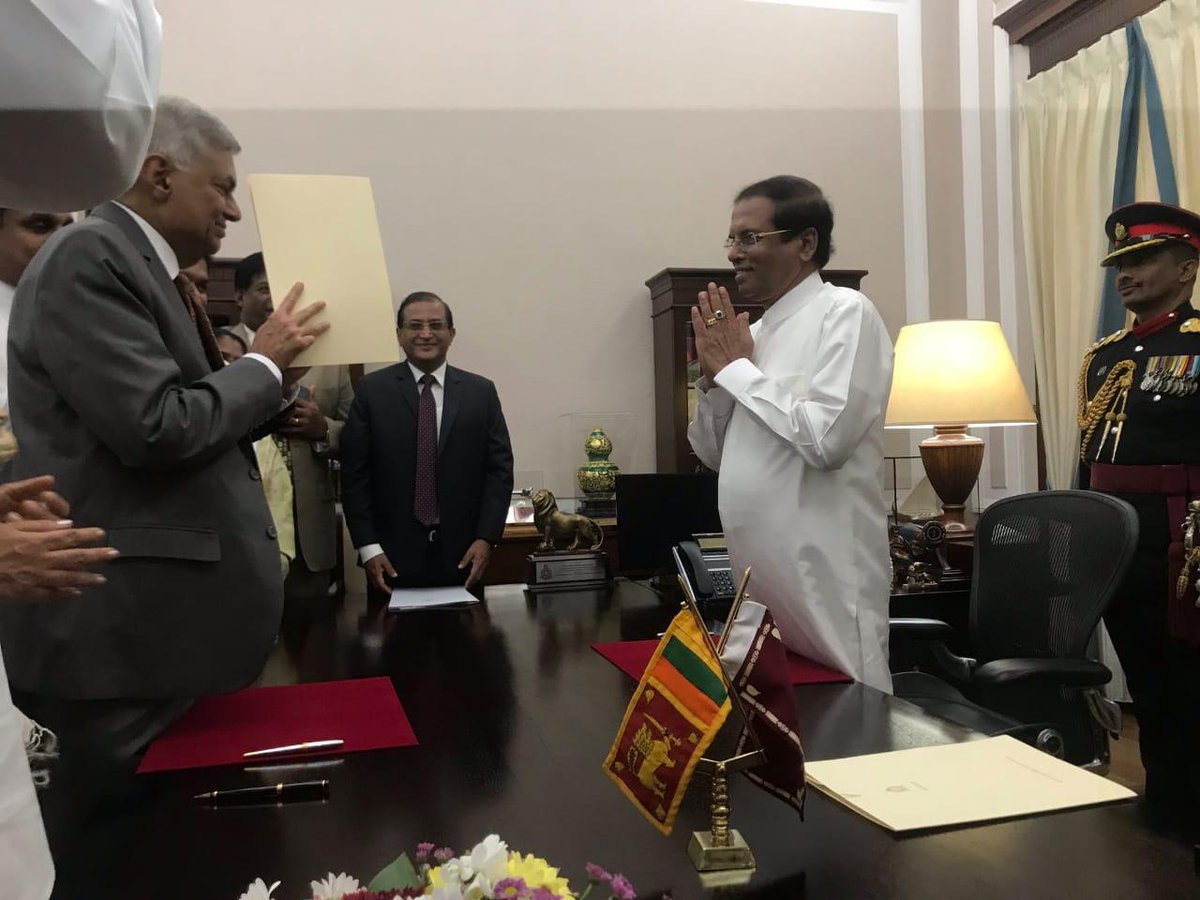 AMN /Colombo
UNP leader Ranil Wickremesinghe sworn in as the Prime Minister of Sri Lanka before President Maithripala Sirisena at the Presidential Secretariat in a short while ago.
Meanwhile a large number of UNP supporters have gathered outside the Presidential Secretariat to cheer and celebrate the reappointment of Wickremesinghe as PM.
Ada Derana reporter said that after taking oath, the UNP leader will arrive at Temple Trees where a ceremony has been organised in his honour, with the participation of the MPs of the United National Front (UNF).
Wickremsinghe came back after weeks of political drama which began with his removal as Prime minister and appointment of Rajapaksa on October 26.
A 30 member cabinet is also expected to be sworn in by Monday. Earlier, Rajapaksa in a statement said that he is resigning since he has no intention of remaining as Prime Minister without a general election being held. He defended his appointment saying a President cannot stand by and do nothing when the whole country was facing destruction at the hands of the people running the government.
Rajpaksa said that the change of government that the people expected has had to be put off but the people will definitely get the change they desire. He said the coming together of the Joint Opposition and the SLFP group led by President has created a power block that commands around 54% of the vote base.
He said their main aim in the immediate future will be to hold the provincial council elections which have been delayed by more than one year and three months.
Rajapaksa resigned after he failed to garner majority in Parliament and President Attempt to dissolve parliament was nullified by Supreme Court in a decision on Thursday.
Rajapaksa also suffered setback at the hands of a lower court which restrained him from functioning on a quo warranto petition filed by Wickremsinghe and his MPs.