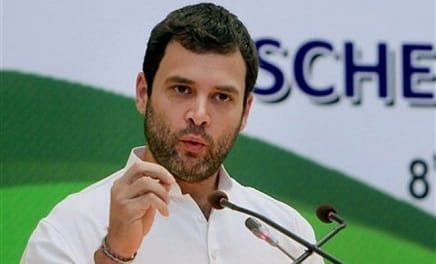 WEB DESK / New Delhi
Soon after External Affair's Minister S Jaishankar denied US president Donald Trump's claim that PM Narendra Modi asked him to resolve the Kashmir issue in Parliament, Congress leader Rahul Gandhi Tuesday demanded answers from the PM saying a "weak foreign ministry denial won't do".
Gandhi tweeted, "A weak Foreign Ministry denial won't do. PM must tell the nation what transpired in meeting between him & US President." He also added that if Trump's claims are found to be true, Modi has "betrayed India's interests & 1972 Simla Agreement."
During a meeting with Pakistan Prime Minister Imran Khan at the White House Monday, US President Trump said he had discussed the Kashmir issue with Prime Minister Narendra Modi on the sidelines of G-20 Summit and that he would "love to be a mediator."
Speaking in the Rajya Sabha, External Affairs Minister S Jaishankar "specifically and categorically" denied US President Donald Trump's claim. "I would like to reiterate that all engagements with Pakistan will remain only bilateral. I would also like to reiterate that bilateral dialogue is only possible when Pakistan ends cross-border terrorism. The Simla Agreement and the Lahore Declaration lay the path for any talks on the said issue," he added.