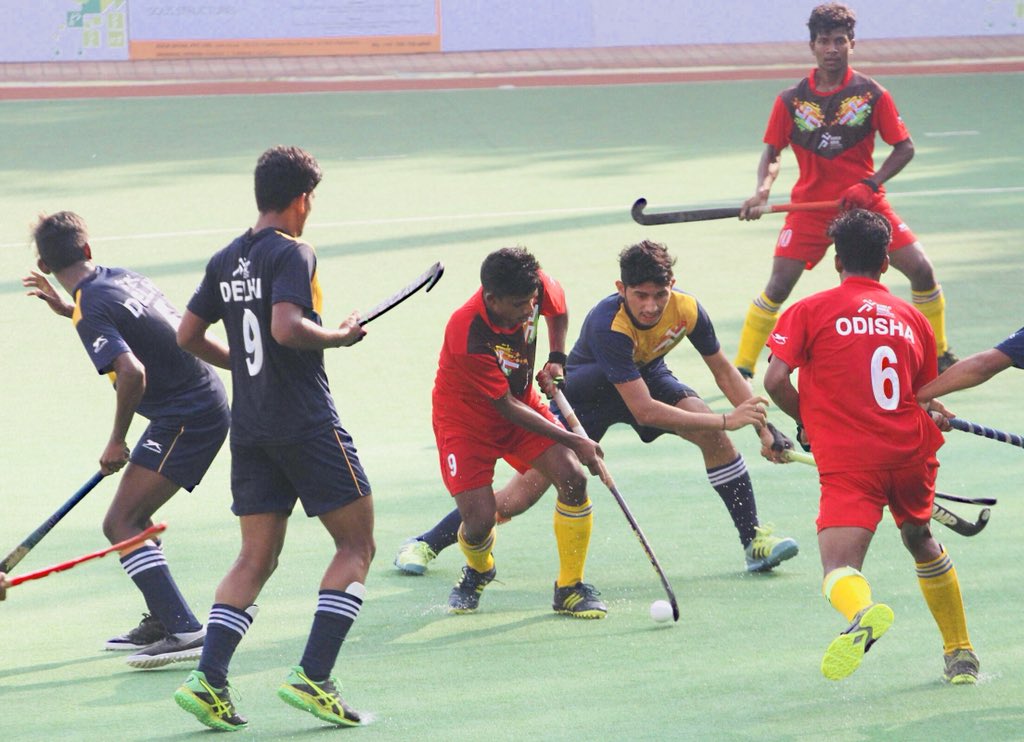 HSB / PUNE
Punjab and Haryana recorded big wins over their rivals to make it to the semi-finals to make it to the semi finals of the Khelo India Youth Games (U-17) hockey, at the Mahindra Hockey Stadium, on Thursday.
Completing the last four line up in this section were Uttar Pradesh and Odisha who also had easy last pool engagements.
In pool B Punjab thrashed Jharkhand 9-4 in lop sided encounter while Haryana overpowered Chandigarh 4-0 ..
In pool A Uttar Pradesh put it across Maharashtra 5-3, while Odisha downed Delhi 3-1 .
Simranjot Singh with three goals top scored for Punjab who led 5-1 at half time. The other goal scorers were Ajaypal Singh (2) Arshdeep Singh(jr) ,Prabhsimranjeet Singh, Aryan Walia and Arshdeep Singh (one each) for the losers, Prem Karketta (2) Shet Topno , Bilsan Kindo (one each) scored.
Haryana played attacking game to outlast Chandigarh. For the Winners who led 1-0 at the half time, the goal getters were Yogesh Singh (2) Tanuj Saroha,and Ankit (one each)
. In the morning , Uttar Pradesh took a 4-0 lead against Maharashtra, before the hosts fought back to make it 3-4.However Uttar Pradesh scored in the last minute to emerge as an unbeaten side in this pool The goal scorers were.Ajay Yadav, Deepak Patel (two each) and Anand Saurabh (one)
Dhairyashil Jadhav (2) ,Kunal Dhamal (one) redced the margin for the hosts.
Odisha, took a commanding 3-0 lead in the first half against.Delhireduced the gap in the 53rd minute off a penalty corner.
Bikash Kujur, Sudeep Minz, Deepak Ekka chipped in with a goal each for the winners. Pankaj scored the lone goal for Delhi.