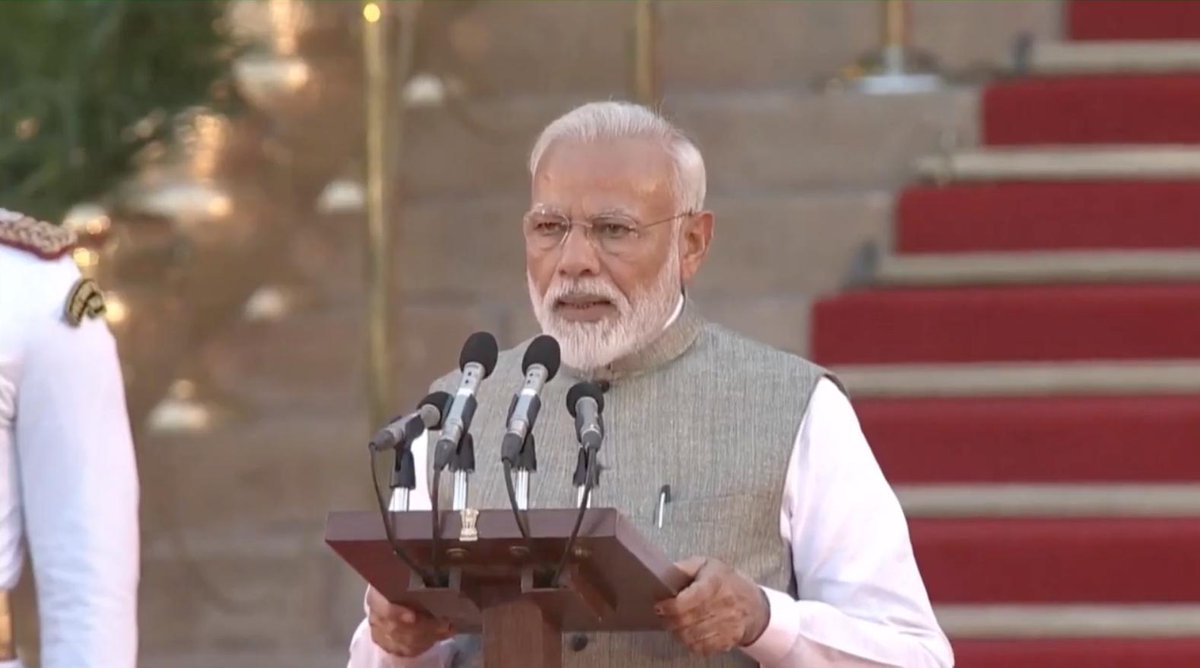 Andalib Akhter  / NEW DELHI
Prime Minister Narendra Modi took oath of Office and Secrecy along with a new Council of Ministers for the second term at a glittering ceremony at Rashtrapati Bhawan a short while ago.
President Ram Nath Kovind administered the oath of Office and Secrecy to the Prime Minister and his Council of Ministers.
Even as two major faces of BJP Arun Jaitely and Sushma Swaraj could not make it to Cabinet, Party president and chief architect of BJP victory in Lok Sabha election today took oath as cabinet minister just after Rajnath Singh.
The Council of Ministers include Rajnath Singh, Amit Shah,Nitin Gadkari, D V Sadanand Gowda, Nirmala Sitharaman, Ram Vilas Paswan, Narendra Singh Tomar, Ravi Shankar Prasad, Harsimrat Kaur Badal, Thawar Chand Gehlot, Dr. Subrahmanyam Jaishankar, Ramesh Pokhriyal Nishank, Arjun Munda, Smriti Zubin Irani, Dr Harsh Vardhan and Prakash Javadekar among others.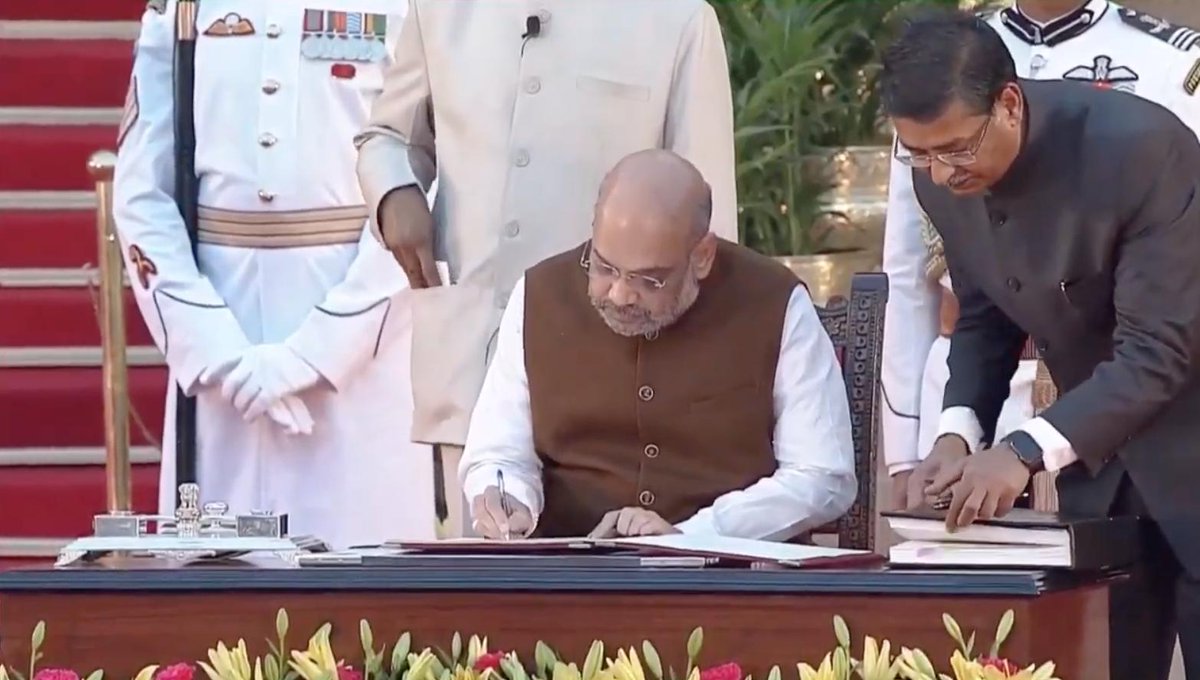 Santosh Kumar Gangwar, Rao Inderjit Singh, Shripad Yesso Naik, Dr Jitendra Singh, Kiren Rijiju, Prahlad Singh, Mulayam Singh Patel, RK Singh, Hardeep Singh Puri, Mansukh Lal Mandaviya took oath as Ministers of state (Independant Charge). Faggan Singh Kulaste, Ashwini Kumar Choubey, Arjun Ram Meghwal, General VK Singh, Krishan Pal Gurjar, Danve Raosaheb Dadarao, G Kishan Reddy were among those who took oath as Ministers of State.
The function was attended by leaders from BIMSTEC countries and foreign envoys, Governors, Chief Ministers, Opposition leaders, corporate heads and film stars. President of Sri Lanka Maithripala Sirisena, President of Myanmar, U Win Myint, President of Bangladesh, Md. Abdul Hamid, Prime Minister of Bhutan, Dr Lotay Tshering, Prime Minister of Nepal, K P Sharma Oli, Special Envoy of Thailand, Grisada Boonrach, President of the Kyrgyz Republic, Sooronbay Jeenbekov and Prime Minister of Mauritius, Pravind Jugnauth witnessed the event.
Among the Chief Ministers who attended were Bihar Chief Minister Nitish Kumar, Karnataka CM HD Kumaraswamy, Uttar Pradesh Yogi Aditya Nath, Maharashtra Chief Minister Devendra Fadnavis Chief Minister Yogi Aditya Nath and Delhi Chief Minister Arvind Kejriwal. From Opposition, UPA Chairperson Sonia Gandhi, Congress President Rahul Gandhi, and Samajwadi Party leader Mulayam Singh Yadav.
List of Cabinet Ministers
1. ShriNarendraModi
2. ShriRajNathSingh
3. ShriAmitShah
4. ShriNitinJairamGadkari
5. ShriD.V.SadanandaGowda
6. Smt.NirmalaSitharaman
7. ShriRamvilasPaswan
8. ShriNarendraSinghTomar
9. ShriRaviShankarPrasad
10.Smt.HarsimratKaurBadal
11.ShriThaawarChandGehlot
12.Dr.SubrahmanyamJaishankar
13.ShriRameshPokhriyal'Nishank'
14.ShriArjunMunda
15.Smt.SmritiZubinIrani
16.Dr.HarshVardhan
17.ShriPrakashJavadekar
18.ShriPiyushGoyal
19.ShriDharmendraPradhan
20.ShriMukhtarAbbasNaqvi
21.ShriPralhadJoshi
22.Dr.MahendraNathPandey
23.ShriArvindGanpatSawant
24.ShriGirirajSingh
25.ShriGajendraSinghShekhawat
MinistersofState(IndependentCharge)
1. ShriSantoshKumarGangwar
2. RaoInderjitSingh
3. ShriShripadYessoNaik
4. Dr.JitendraSingh
5. ShriKirenRijiju
6. ShriPrahaladSinghPatel
7. ShriRajKumarSingh
8. ShriHardeepSinghPuri
9. ShriMansukhL.Mandaviya
MinistersofState
1. ShriFaggansinghKulaste
2. ShriAshwiniKumarChoubey
3. ShriArjunRamMeghwal
4. General(Retd.)V.K.Singh
5. ShriKrishanPal
6. ShriDanveRaosahebDadarao
7. ShriG.KishanReddy
8. ShriParshottamRupala
9. ShriRamdasAthawale
10.SadhviNiranjanJyoti
11.ShriBabulSupriyo
12.ShriSanjeevKumarBalyan
13.ShriDhotreSanjayShamrao
14.ShriAnuragSinghThakur
15.ShriAngadiSureshChannabasappa
16.ShriNityanandRai
17.Shri.RattanLalKataria
18.ShriV.Muraleedharan
19.Smt.RenukaSinghSaruta
20.ShriSomParkash
21.ShriRameswarTeli
22.ShriPratapChandraSarangi
23.ShriKailashChoudhary
24.Smt.DebasreeChaudhuri