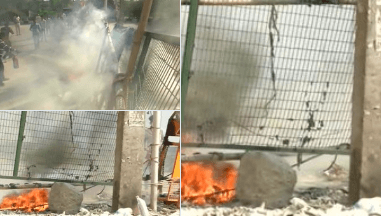 AGENCIES / NEW DELHI
A petrol bomb was hurled nearby Shaheen bagh protest site today. Protest against Citizenship Amendment Act, NPR NRC has been going on in Shaheen Bagh for nearly three months.
According to reports, a man riding a motorcycle is believed to have hurled some chemicals in a glass bottle at the protest site and another near the Jamia Milia University's gate number 7.
According to the deputy commissioner of police (DCP), CCTV footage from the area is being examined to further probe the incident.
Police said the blast took place around 9 a.m. after two unidentified persons on a bike threw a bottle filled with explosive substances. The first incident happened around 100 metres away from the protest site while the other incident happened outside gate no. 7 of the Jamia Millia Islamia University.
Police said the bike came out of a lane of Shaheen Bagh and threw a bottle towards police barricades. No one was injured in the incident.
Local people alleged that it was another ploy to malign Shaheen bagh agitation against the controversial law .
No one has been arrested so far in this connection.