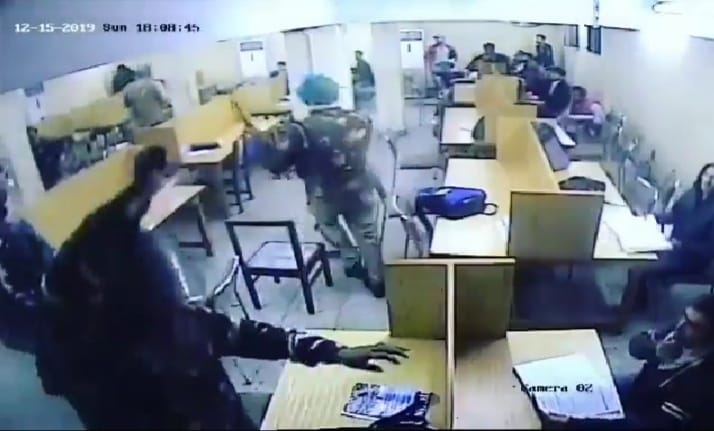 WEB DESK / New Delhi
Jamia Coordination Committee have released a new video allegedly of the attack on students of the Jamia Milia Islamia on December 15.
The 48-odd second video, tweeted late on Saturday night, shows policemen in riot gear and paramilitary personnel entering the Reading Hall and caning students.
Police said the video has come to their knowledge. Special Commissioner of Police (Intelligence) Praveer Ranjan said police would investigate it as part of their investigation.
The Jamia Coordination Committee said it received the video from an "anonymous" source.
It also said the university has shared video footage of the police action in the library with the National Human Rights Commission (NHRC), which is probing the episode.
No hand in releasing video, says Jamia
The Jamia Millia Islamia clarified that it has not released the video.
"It has come to our notice that some video with regard to police brutality in Dr Zakir Husain Library of the Jamia Millia Islamia (JMI) is in circulation. This is to clarify that the video has not been released by the university," the institute's public relations officer Ahmad Azeem said.
According to the public relations officer, the JCC, which is actually a joint coordination committee of students and alumni of the university, is spearheading the stir against the Citizenship (Amendment) Act, the National Population Register (NPR) and the National Register of Citizens on the Maulana Mohammed Ali Jauhar Road outside the university's gate number seven.
"This is to clarify that JCC is not an official body of the university. Any communication from JCC should not be taken as version of the university" Ahmad Azeem said said.
"A number of Twitter accounts, Facebook pages and other users on different social media platforms are using Jamia Millia Islamia's name, creating confusion among the people. The university's official Twitter handle is @jmiu_official. Official verified Facebook page is Jamia Millia Islamia, New Delhi @jmiofficial and official Instagram account is jamiamilliaislamia_official," the official said.
"We have also requested Twitter to verify our official handle and will also ask other social media platforms to do the same," he said.