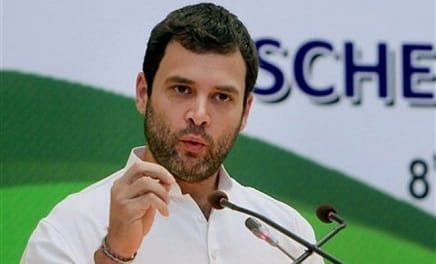 Agencies / NEW DELHI
Congress Presdint Rahul Gandhi today alleged that Vijay Mallya and Finance Minister Arun Jaitley had 15-20 minute just two days before the fugitive tycoon's took flight to the UK.
"Arun Jaitley is lying, Congress leader PL Puniya witnessed his meeting with Vijay Mallya," Rahul Gandhi said, a day after the finance minister rubbished Vijay Mallya's claim that he had met him before leaving for London in 2016.
"It was a 15-20 minute, sit-down meeting…The finance minister has to explain to the country why he has colluded with the criminal and why was he having a meeting with a criminal, what was discussed?"
The Congress president handed the mic to PL Puniya, who said he had seen Mr Mallya and the finance minister speak in the Central Hall of parliament in March 2016, days before the liquor baron left India and flew to the UK amid attempts to recover over Rs. 9,000 crore in unpaid loans from him.
A British court will give its verdict on Vijay Mallya's extradition on December 10
"I was in the central hall of Parliament House. I saw Jaitley and Mallya standing and talking in the corner. After 5-7 minutes, they sat on the bench and started talking. Mallya had come for the first time just to meet Jaitley," Mr Puniya said. "It is my challenge. You can look at CCTV footage and see if I am wrong. If I am wrong, I will resign," he declared.
"After that on March 3 — he left for London on March 2 — my reaction was: he met Jaitley two days ago," the Congress leader said.