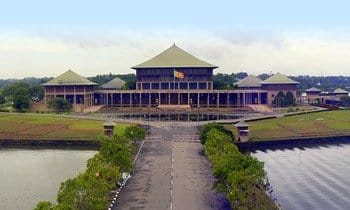 AMN / NEW DELHI / COLOMBO
India on Friday  said, it is monitoring the situation related to political development in Sri Lanka. In reply to a media query, MEA spokesperson Raveesh Kumar said in New Delhi that so far the situation is unclear in that country. He hoped that democratic process will be respected in Sri Lanka.
Sri Lanka President Maithripala Sirisena on Friday disolved the parliament and announced that a snap election will be held on January 5, nearly two-years ahead of schedule. He announced it when it became clear his prime minister nominee did not have a majority. The president made the announcement in a gamble that a new election will get backing for his preferred candidate as prime minister over an ousted premier who has refused to give up, a minister told AFP. Sirisena said in a proclamation that a new parliament will be convened on January 17 after conducting the nation-wide vote on January 5.
Sirisena signed a decree dismissing the island's 225-member assembly just hours after his party admitted it did not have enough votes to get support for former president Mahinda Rajapakse against rival claimant Ranil Wickremesinghe.
The two have been battling for the prime minister's post for two weeks as international concern grows over the mounting turmoil.