President, VP, PM greet people on Holi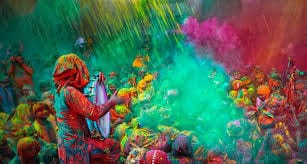 TIA WEB DESK / AMN
Holi is being celebrated across India today. The festival of colours signifies the victory of good over evil and the arrival of spring. In Uttar Pradesh, celebrations at Mathura, the birthplace of Lord Krishna, started in temples early this morning.
In Bihar tight security arrangements have been made in the state to avert any untoward incident during this festival.
Reports of Holi festivities have already been received from abroad.
In Sri Lanka, several programmes have been organised in capital Colombo and other parts of the country.
This year, the lead was taken by Indian cultural centre under the High Commission of India to organise programmes and make people celebrate Holi in a grand fashion.
In Nepal, the festival was celebrated in Kathmandu valley and several hilly districts yesterday. Holi is also known as Fagu Purnima in the country. The festival is being celebrated today in Terai region.
President Ram Nath Kovind, Vice President M Venkaiah Naidu and Prime Minister Narendra Modi have greeted the people on the occasion.
In his message, President Kovind said, the festival is a celebration of spring and sense of fraternity and mutual goodwill. He expressed hope that the confluence of colours will bring positive energy to all.
Vice President Naidu said, it is a festival that expresses joy, camaraderie and conviviality.
In a tweet, Mr Modi expressed hope that the festival of joy will deepen the colour of unity and harmony.