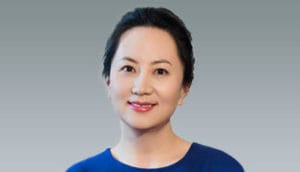 WEB DESK
Huawei Chief Financial Officer CFO Meng Wanzhou (Sabrina Meng) has been detained in Canada while transferring between flights in Vancouver. China has demanded her release.
According to reports Meng Wanzhou, the daughter of the company's founder, could face extradition to the US.
She was arrested in Vancouver on 1 December, but the news was not made public at her request.
The charges remain unknown but the US has been probing Huawei over possible violation of sanctions against Iran.
China says her detention is possibly a rights abuse.
Ms Meng has sought a publication ban on the details of the arrest, which has been granted by the courts.
— Huawei Technologies (@Huawei) December 6, 2018
Huawei is a leading global provider of information and communications technology (ICT) infrastructure and smart devices based in China.
A Chinese foreign ministry spokesperson told media: "The detention without giving any reason violates a person's human rights."
"We have made solemn representations to Canada and the US, demanding that both parties immediately clarify the reasons for the detention, and immediately release the detainee to protect the person's legal rights."
Since 2005, Ms. Meng has led the founding of five shared service centers around the world, and she also promoted the completion of the Global Payment Center in Shenzhen, China. These centers have boosted Huawei's accounting efficiency and monitoring quality, providing accounting services to sustain the company's rapid overseas expansion.
Since 2007, Ms. Meng has been in charge of the Integrated Financial Services (IFS) Transformation Program, an eight-year partnership between Huawei and IBM. This transformation program helped Huawei develop its data systems and rules for resource allocation, operating efficiency improvement, process optimization, and internal controls. IFS also took Huawei's financial management to a new level, creating new DNA for the company's sustainable growth.
In recent years, Ms. Meng has focused on advancing fine-grained and comprehensive financial management at Huawei, working to align these efforts with the company's long-term development plan. Ms. Meng has continually worked to improve treasury risk and tax compliance management systems, and has helped to make financial operations within the company more efficient, agile, and intelligent.
additional input from huawei.com