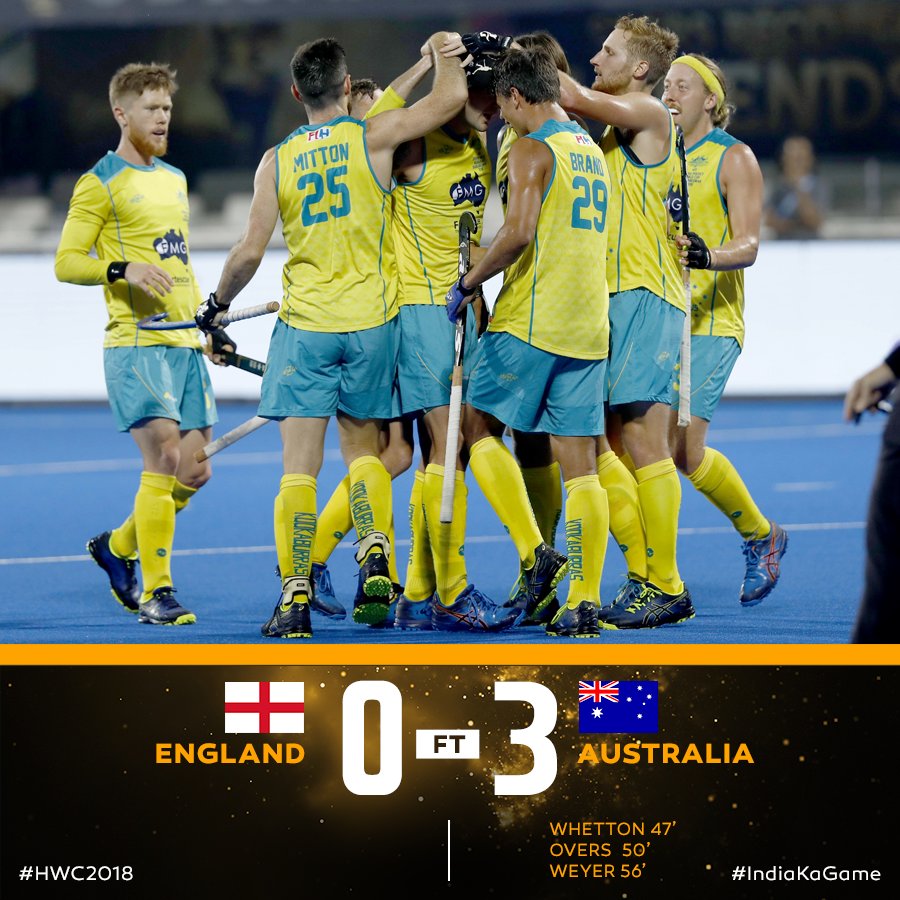 Harpal Singh Bedi / Bhubaneswar
Three goals blitz in the space of 9 minutes of the final quarter enabled defending champion Australia demolish England 3-0 to record their second straight win in the pool B of the 14th World Cup Hockey at Kalinga stadium Bhubneswar on Tuesday.
After the barren 46 minutes, for the winners Jake Whetten (47th), Blake Govers (50th) and Corey Weyer (56th) scored a goal each to put their side virtually into quarterfinals with six points and a match to go.
England have one point from two outing and will face Ireland in a do or die battle on 7th December
Australia once again established their dominance over England beating them for the 21st time of the 28 matches they have played between themselves so far. As far as World Cup head to head is concerned Australia has won 9 times as against England"2.
In an engrossing battle both teams had their chance till the 3rd quarters but the three times winners displayed overwhelming superiority in the ;last quarter and pumped in three superb goals to seal the game in their favoure. .
It was Australia which launched the first offensive forcing their rivals to be on the defensive England tried to counter but their strikers were unable to cut through the Aussie's strong mid field.
The Aussies after probing the. English defence made their first incisive attack in the 5th minute when Matthew Swann intercepted a long ball from the midfield and relayed it Jake Whetton who sent it to Jake Harvie who fumbled near the goal.
Couple of minutes later Liam Sanford latched on to a ball from outside the circle cut through a defender but shot wide off the target
After being under pressure for about 12 minutes England tried to take the battle into the rival defence as they launched a well coordinated attack. Striker Barry Middleton created an opening from the left and unleashed a powerful reverse hit however Australian goalkeeper Goerge Pinner anticipated it well to boot it out.
We witnessed a great game of Hockey as the first fixture of the day. And it sure made for many picturesque moments.

Follow the link to view them all: https://t.co/n4OV68x5lr pic.twitter.com/HebWIgUnbF

— Hockey India (@TheHockeyIndia) December 4, 2018
England made another frontal attack resulting in two good chances. Jack Waller set up Phil Roper but Aussie defender Matthew Swann foiled the attempt .Then a minute before the end of first quarter England missed another chance but the striker"s shot was way off the mark
Six minutes into the second quarter Australia earned two back-to-back penalty corners but Goerge Pinner made three superb saves s, diving low to his right side to clear the ball..
England retaliated through Jack Waller who beat three defenders and relayed it Phil Roper whose first timer hit0 the woodwork, Another attack followed as Zachary Wallace sets up Jack Waller on the left flank, but Australian defenders foiled that effort..
In the last five minutes of the second quarter saw both teams trading attacks on multiple occasions but goalkeepers Tyler Lovell and George Pinner, who have a combined experience of 287 international matches, brought off some awesome saves for their sides..
The third quarter belonged to England as veteran Barry Middleton marshalled the game from the middle. and defence was stout. Australian skipper Aran Zalewski created few opening but England defenders snatched the ball l away and went on to counter but they also were unable to make breach the Australian 'D' area.
Australia earned a penalty corner in this session but , Jeremy Hayward's draglick was saved by George Pinner who went down to his right to clear the threat.
It has not been a great tournament for dragflickers, with just 14 of the 44 goals scored in the tournament have come from the penalty corners in 13 matches so far. This game has had 4 corners but all were muffed..