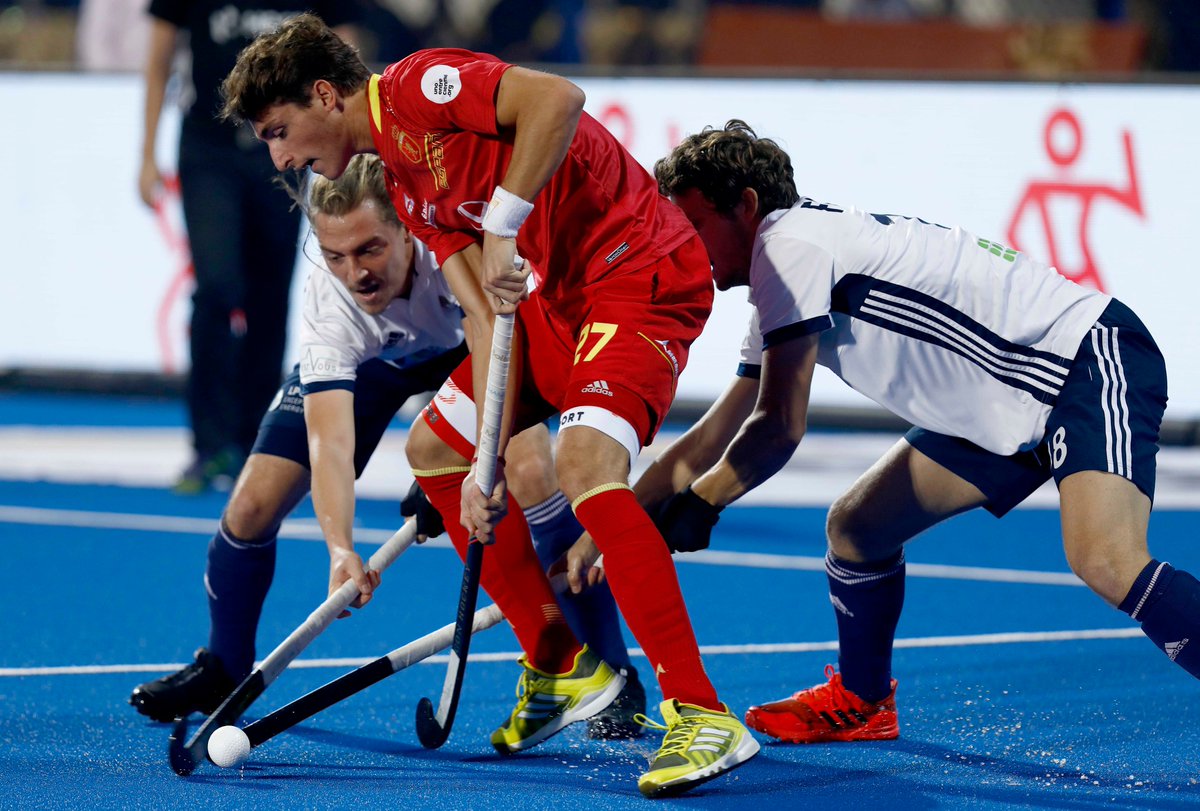 @hockeyIndia
Harpal Singh Bedi / Bhubaneswar
Veteran goalkeeper Quico Cortes brought off a stunning penalty stroke save just before the end to enable Spain hold lowly France to a 1-1 draw in a gripping pool A match to stay alive in the 14th Hockey World Cup at Kalinga Stadium, Bhubaneswar on Monday.
Both the teams had lost their openers and with this draw they have one point each and their fate will be decided in their respective last matches- Spain to play New Zealand and France faces Argentina..
Spain who have played in all the edition of the World Cup since 1971, were given a freight by France playing only for the third time.
The world number 8 conceded a goal in the 6th minute and had to battle it out for next 42 minutes to equalize.
France adopted hit and run tactics and that paid off as they managed to force Spain to be on the defensive and before the two times runners up could find their rhythm the lowest ranked team in the tournament struck in the 6th minute through Timothee Clement who took advantage of the defensive lapse to send the ball home with reverse flick(1-0)
Taken aback by this sudden reverse, Spain (Red Sticks), regrouped themselves and tried to regain the lost momentum but the French were unrelenting and fended off repeated attacks.
Spain compared to their European rival have a better hockey pedigree but they found it hard to breach the French defence despite having better share of the ball.
French making a return to the World cup after 28 years, displayed unorthodox tactics which puzzled their fancied rivals. Their forwards ran down the flanks and made quick retreat to defend their citadel.
Spain on the hand kept on attacking but failed the breach the defence. By the time game was into 37 minute, they had forced five penalty corners but without any success much to the frustration of coach Frederic Soyez, who incidentally is a former Frederic Soyez.
France's coach twice Olympic gold medallist Dutchman Jeroen Delmee played to a scipt. There was no flourish in their game and they stuck to their basics- attack and retreat. They managed a penalty corner in the 41st minute but Spain goalkeeper and captain Quico Cortes brought off a super save.
As time ticked away, Spaniards became more aggressive but goal eluded them.Their strikers did every thing but score. In the circle they tried to every trick but could not find the target. There was panic in their camp as two more penalty corners came there way taking the tally to seven but goal remained elusive
However 12 minutes before the final whistle Spain forwards made another foray and this time Alvaro Iglesias made no mistake in sending the ball home to equalise.
French had a golden chance to wrap up the game when in the 61minute they were awarded a stroke but Hugo Genestet flick was brilliantly saved by Quico Cortes.