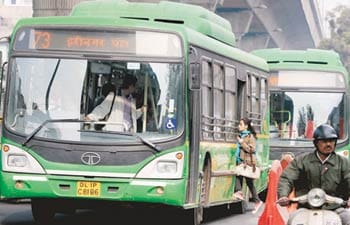 Vinit Wahi / NEW DELHI
Delhi Cabinet, in its meeting on Friday, chaired by the Chief Minister Arvind Kejriwal gave the in-principle approval for the procurement of 1,000 buses under cluster scheme from successful bidders, subject to approval from the Supreme Court and Delhi High Court.
Delhi government will bear an estimated expenditure of around Rs 276 crore for the engagement of 1,000 buses under the cluster scheme for the first year of operations.
Following the cabinet meeting, this major decision was announced by the Deputy Chief Minister Mr Manish Sisodia and Transport Minister Mr Kailash Gahlot, at a media briefing.
Mr Sisodia said the processes for procuring further 1,000 buses for DTC and 1,000 electric buses are at advanced stages.
Delhi government is committed to augment the public transport in the national capital at an affordable price to ensure that residents do not face any problem in commuting and at the same time their safety is ensured.
The Transport Department had sought cabinet approval to award the contracts to successful bidders for four clusters for engagement of 1,000 fully built Non-AC CNG propelled standard size standard floor height(900 mm) Buses under the Cluster scheme.The new buses will have three IP-based CCTV cameras, panic buttons, inbuilt GPS and anti-skid system.