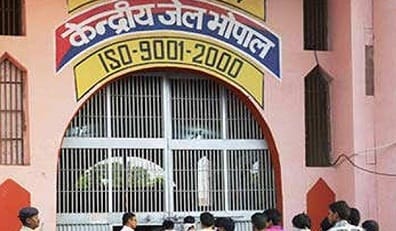 WEB DESK
A National Human Rights Commission (NHRC) team has found that SIMI men lodged in Bhopal Central Jail were subjected to torture by officials and being denied basic needs like adequate food and sleep. It is happening after the October 31, 2016, encounter of some undertrials.
Quting NHRC report, Indian Express reports that the prisoners had alleged they were kept in solitary confinement, made to chant slogans like Jai Shri Ram while their Quran was thrown away. The 21 SIMI prisoners in the jail include one convict, Abu Faisal, and 20 undertrials. Their family members had also alleged harassment during visits.
After their case was taken up by activists and taken to the NHRC, it had sent a team to the Bhopal Central Jail in June 2017 to investigate. The Commission had sent a second team in December 2017, after allegations that mental harassment and physical torture had resumed after a brief respite.
The NHRC team interacted with prisoners, family members, jail authorities, lawyers and social activists before submitting its 24-page report, which has only how become available. At an interaction with the media here Saturday, Shama Mohamed Javed, Ambreen Mohammed Zuber and Farzana Mohammed Adil, the family members of the SIMI prisoners, repeated the allegations, including how jail staff made them remove their veils to took their photographs on their phones.
The NHRC report says that the prisoners testified to being kept in solitary confinement in 5X8 feet cells without fans, from where they were let out for only a few minutes a day for filling water and cleaning the area outside. This had led to behavioural disorders like anxiety, depression and frustration, resulting in some of them turning aggressive, they said.
SIMI activists said they were held aloft by hand and legs in a "helicopter position", and beaten using flour mill belts, lathis and strips of rubber. They said they were woken up at night just to ask their "khairiyat (wellbeing)", so as to deny them sleep.
Regarding the prisoners' complaint about inadequate food, the NHRC report says that food was being served as per the jail manual but the inmates could not buy eatables from the canteen like before. This had affected their health, the NHRC says, with the problem compounded by lack of proper treatment.
The NHRC also finds the prisoners' allegation that they were forced to shout slogans against their religious beliefs and beaten up if they refused to do so as credible. It points out that the prisoners had themselves said the staff did not harass them during Ramzan. "This admission makes it even more probable that they are not making false allegations or exaggerating their ill-treatment."
Meanwhile Director General (prisons) Sanjay Chaudhary said the jail authorities had denied all the allegations, and said the NHRC's report was "one-sided". "We submitted a point-to-point rebuttal of its first report in January 2018," he told the Hindustan Times. "The matter is pending before the NHRC."
The surveillance of the prisoners increased significantly after the jailbreak on October 31, 2016. The prisoners who escaped were shot dead later that day in an encounter in Eintkhedi village. The Madhya Pradesh government was criticised for its handling of the jailbreak and the encounter.